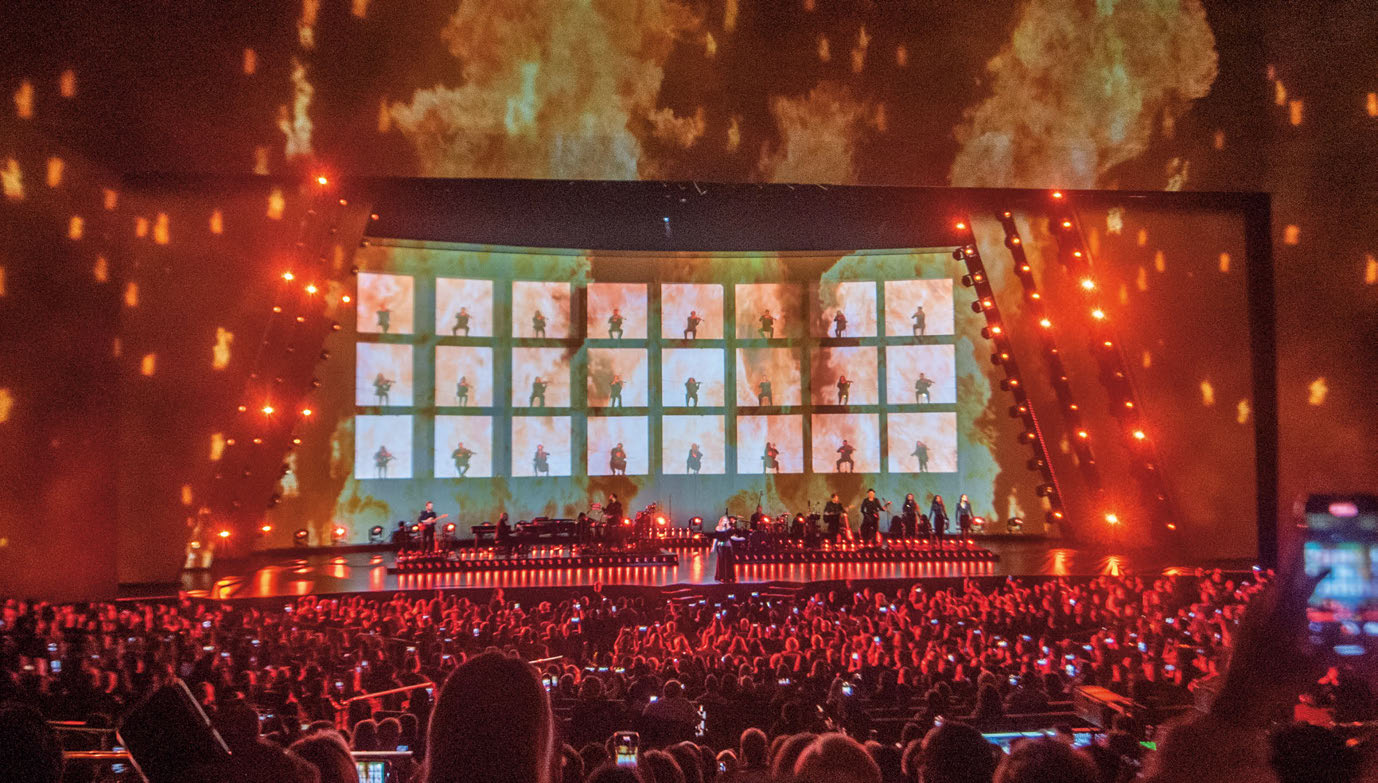 Weekends With Adele
The past few years have seen some notable show cancellations. A variety of reasons have contributed to this, but in the case of Adele's Las Vegas show, the singer explained in an emotional video that the production was simply "not ready". When the dust settled, the question remained what the next step would be. Several months later, and with a lot of new players working behind the scenes, Adele returned to Caesars Palace, Las Vegas in November 2022 with a show that garnered much acclaim. Amid its second run, TPi caught up with some of those responsible for this stunning reincarnation.
HELLO… IT'S ME
One of the first people the singer called after deciding to pull the plug on the first show was Matt Askem. The Video Director turned Creative Director has worked with Adele since 2016.
"During that first call she asked if I could help her build a new creative team," reminisced Askem, reflecting on his first outing in the Creative Director role. Among the first people he contacted were Ric Lipson and Ray Winkler of Stufish Entertainment Architects.
"A lot of people I brought in I'd worked with and trusted including our Show Director, Kim Gavin," stated Askem. "The only person I hadn't worked with before was Lighting Designer, Cory FitzGerald, but that appointment came from Adele, who really liked some of his previous work including Kendrick Lamar."
Paul English, who had previously been the Stage Manager on the original show, assumed the role of Production Manager. "Stufish were already creating designs as we were going into Adele's Hyde Park performance in the summer of 2022," recalled English. "I knew we needed someone to help steer the ship, so I put myself forward to take on the Production Manager role as well as keeping my Stage Manager position."
As for the suppliers, the production brought in TAIT to handle staging, Clair Global for audio, Neg Earth for lighting, and Solotech for video. English also brought in J.E.M FX from LA and Sin City Scenic from Las Vegas to supply SFX and installation, respectively, as well as LA-based Rando Production, which aided in the singer's magical illusion at the end of the show. Finally, UK-based Artem worked on the exploding piano effect while the production put its faith in Freight Mind to handle logistics.
"We are very fortunate to have been chosen to handle the Adele production freight at a very early stage of our life, which we will be forever grateful for. We would like to say a big thank you to Paul for supporting us and entrusting us at such an early stage of the company," said Freight Minds' Matt Wright.
This was not only English's first time production managing a show of this size but his first experience on a Vegas residency. "I've stage and production managed some fairly big events over the years including Glastonbury and Download as well as working with Muse for 16 years, but I must admit the residency show was a baptism of fire," he chuckled.
"Just getting the show in proved interesting. The stage can only hold so much and we had to be tactical about bringing in our 30-plus-truck fleet. Take our suspended 20 metric ton performer wall for the orchestra – it is only two trucks of set carts, but the amount of space it takes up on stage to build it means nothing else could come in at the same time and it had to be built overnight due to time limitations."
Although Adele was playing for multiple weeks, English had to be conscious how quickly the show would have to be dismantled at the end of each run. "After the first run of the show finished on a Saturday night, we had to hand the venue back by 8:00am on Tuesday morning," he stated. English created a 24-hour timetable to ensure this was done while navigating the US-mandated union hours for the crew.
"We can load out the show in five 10-hour shifts. Thankfully, we made a deal with the house to keep our motors in the roof and build half the show ahead of our re-opening nights a week before. Jerry Seinfeld is the booking before us and he performers in front of a red curtain, which means we can build a decent amount of our set behind the curtain."
On top of the load-in and -out logistics, English had to make some major infrastructural changes to the venue. "Projection was a big part of this show and Solotech provided us with some 50K Panasonic laser projectors," said English, who brought in Sin City Scenic to make alterations to the venue's balcony – allowing them to install the projectors without obstructing sightlines.
To deliver this unconventional rig, Sin City Scenic's Brian Rogerson created a cantilever system with ModTruss, using a 6ft by 6ft extrusion to hang multiple 400lb projectors mounted between amphitheatre levels, protruding from each deck's overhang, affixed to a 2in runway in front of the seats. No overhead rigging was allowed, and limited alterations to the building were permitted. The endless bolting track on the extrusion, coupled with the substantial load capacity of the aluminum beams provided much-needed flexibility to adjust both the cantilever beams and the projectors to their ideal position within the limited space available safely.
The low-profiled, black 6ft by 6ft extrusion beams provided a clean, almost "invisible" look, which was highly desired by the client according to Rogerson. The extrusion beam cantilever solution was designed, stamped by a PE, cut to size, and delivered to the theatre in under two weeks. "The solution worked fawlessly and was well received by the client and all associated parties," enthused Rogerson. "The venue was impressed by the efficiency, functionality, and look of our ModTruss cantilever system."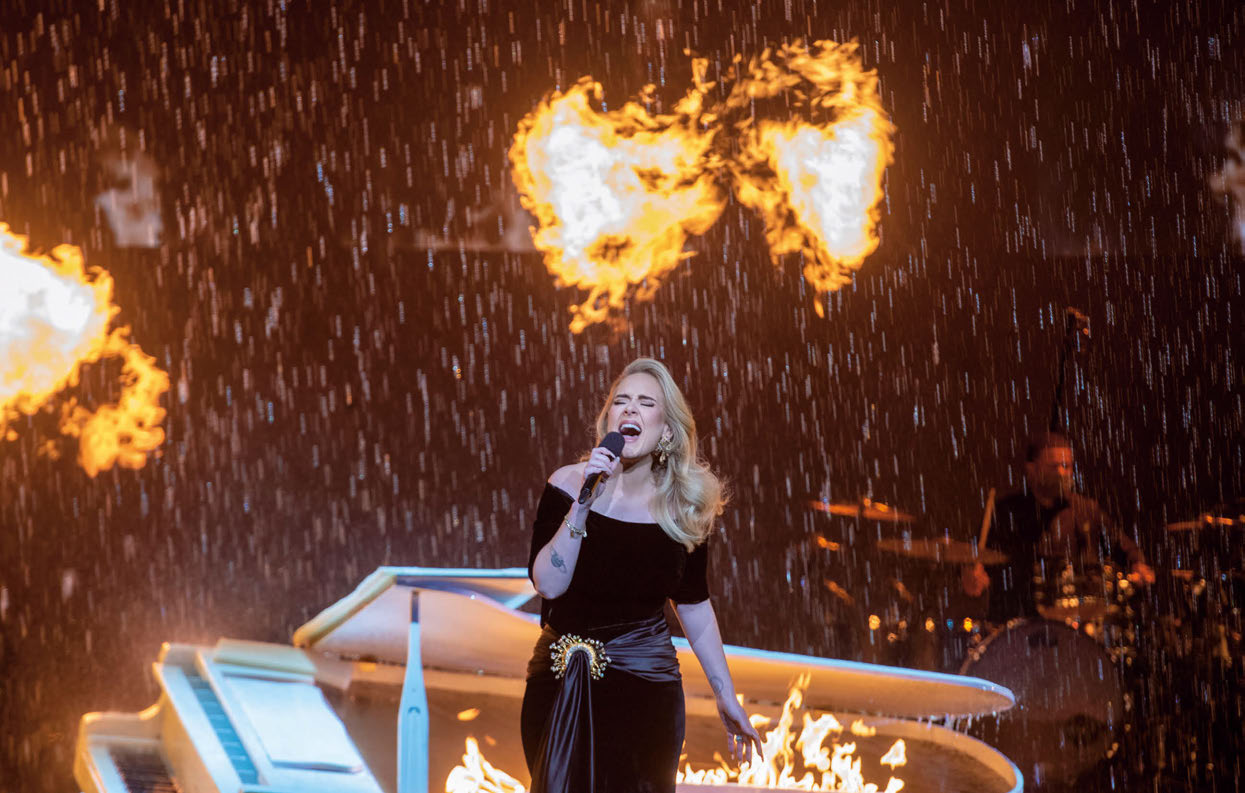 On the topic of infrastructure, English was keen to highlight the work of TPi Award winning Rigger, Colin Raby. "He's been a superstar," enthused the PM.
"We're working with 272 points and when you look up it truly is immense what we've been able to achieve. We are hanging 100 metric tons which is incredible as we are getting close to the safe working limits – obviously safety is paramount. I can't sing Colin's praises enough for doing such an amazing job."
English was also keen to praise the work of Malcolm Birkett who worked to pull all the elements together in endless revisions of CAD drawings during the design phase. While PM duties were new to English, the Stage Manager role was very much business as usual. "With this being a residency, there didn't seem to be any need to take on a new Stage Manager," he noted.
"Essentially, I'm working from home here in Vegas from Monday to Wednesday taking care of my PM duties then I'm at the venue from Thursday to Saturday. This is only possible thanks to the wonderful team I have around me. Particular praise and my biggest thanks must go to Maya Gas our Tour Logistics Manager along with John Dalton our Tour Accountant. Maya and John are integral to the running of the show, covering the logistics and financial aspects of the production, they provide incredible support and take the pressure o􀆬 which means I can truly focus on the practical essentials. Without their input and skill it's fair to say i would struggle to manage both roles of PM and SM.
"On stage, I have my Floor Manager, Emily Burton, Assistant Stage Manager, Matt Kaye and my Head Carpenter, Lonnie Adams. We also have a terrific Show Caller, Carolyn 'Nog' Wyld. These are just a handful of the amazing team that make this show work."
REMEDY
Along with Creative Director, Askem, the main players within this creative inner circle were Show Director, Kim Gavin, Ric Lipson of Stufish Entertainment Architects, Lighting Designer, Cory FitzGerald and famed magician Rob Lake.
"One of the first things she said to me was that she wanted a show that she'd be comfortable in," refected Gavin, recalling the initial conversation he'd had with the singer.
"We didn't want to create a show that wasn't 'very Adele' and it had to embody her character." What followed was several pitching sessions while the team at Stufish began to mock up some set ideas. "She's great to work with as she's very decisive􀀞 if she isn't 100􀀈 happy, she'll ask to see more," stated Gavin. With this inclusive creative process, Gavin believed the result was a production that "looked like an Adele show with her DNA built in". It raised an interesting point; while Vegas residencies don't have the limitations of touring, which means that show designers can push the boat out, as Gavin pointed out, this sometimes works against the artist as it becomes less about them and more about the production. It's a theme that all members of the creative team impressed on TPi that restraint and subtlety was preferred to excess. Of course, while the production may 'appear very simple', according to Ric Lipson, making all the elements fit together seamlessly was 'really quite complex'.
One of the initial references that Adele provided was a photo of her fireplace at home. "Coincidently, we had already started talking about creating a show with layers and developing an A-shaped stage, which matched nicely with the fireplace reference," stated Lipson. "She also wanted every seat in the house to get an intimate experience, which we considered throughout." As has become standard practice for the Stufish team, they provided 3D renders of the proposed show design which both Adele and the wider creative team could then experience with a VR headset and see the view from each seat in the house.
When it came to the stage setup, Lipson stated there were three main aims. "The first was enabling the musicians to move backwards and forwards on the stage, which resulted in automated band risers. The second was the ability to make the show bigger and smaller, which we achieved with intersecting panels. Finally, we needed to find a way to reveal the orchestra, which resulted in the creation of the giant performer wall up stage."
The performer wall, which English referred to as 'Hollywood Squares', was an enormous piece of set, weighing 20 tonnes, which was suspended by 20 two-tonne motors.
"The entire process was quick, with our first meeting taking place in February and then going into an intense period of research to find the right materials," stated Lipson, referring to the material that the video department projected onto. "We've done several Vegas Residency shows before but this one was different. Not only had we not worked with Adele before, which we were over the moon to do, but the show design that we and the team created allows her to really connect with everyone in the room and reflect her character. It is special when you are able to make that happen."
CAN I GET IT
Having initially been shown designs in late April and following a two-month bidding and development process, TAIT won the project in July and delivered the show for production rehearsals in Rock Lititz in late September.
"Collaborating with the team to bring this show to life was a great experience," commented TAIT Project Manager, Logan Lower. "TAIT and Stufish have a long-lasting partnership, which made communication easy and helped with quick decisions on several details of the design."
For the stage, TAIT provided a Mag Deck system with a custom show surface laid over the top. "This created a consistent black surface finish through the entire stage," commented Lower. "Using the Mag Deck was key to give the team the flexibility and modularity required as well as allowing the production to incorporate several hidden effects such as the flame trays and water catchment systems for the rain curtain."
The flexibility of the set was a clear necessity as simply getting the show into the venue appeared to be one of the biggest issues for the production. "Fitting all the elements into such a compressed space onstage was a major achievement," highlighted Lower.
"Every inch of airspace is being used for the show." In fact, space was so tight, TAIT developed a new tracking and automated trolley system to fit within 10ft of space to maintain precise alignment and avoid collisions on the deck and in the air.
While talking about equipment up in the air, Lower discussed the sheer amount of automation taking place on the show. "There are 300 axes of automation on the show," he revealed. "This is all controlled by TAIT's automation platform, Navigator. Further Navigation hoists are used to automate the upstage video wall and a new custom built trolley track moves the projection screens."
Mobilators were used to move the band risers up and down stage. While up in the air, 250 Nano Winches were used to create a kinetic lighting rig over the stage and audience with custom-built LED lanterns.
With some of the automated set objects being projected on, precise positional data was vital for the visual team. "Using TAIT Navigator, we can output positional data (PSN) for each automated axis of lighting, video and projection," explained Lower.
"This means all the departments can take our data and track the pieces through their software to adjust the images and beam accordingly. The design and production team set out with the ambition to create an experience that would immerse the audience and make every seat feel like the 'best seat in the house'. Having played a part in the production has been really rewarding."
TAKE IT ALL
It should not be understated just how big the video deployment was for this production – a fact that wasn't lost on Askem, who explained that Adele is an artist who in the past has "found it hard to engage with video content". He said: "Adele has always preferred the theatre experience compared to stadium-type shows both as a performer and an audience member. She wasn't keen on LED as a medium."
Prior to the show, Adele provided Askem with several references to immersive experiences she had enjoyed, which all had one thing in common: projection. The team opted to utilize a giant arsenal of 18 Panasonic PT-RQ50K 4k 50K laser video projectors, provided by Solotech.
However, there were still question marks over the projection surface. "We often build a grey box when we are designing immersive projection experiences, but the issue with this type of material is that as soon as you shine a light source on it, it appears milky and washes everything out," outlined Lipson.
To avoid this issue, Stufish suggested a relatively new product called Carbon Black.
It's a very dark material that responds incredibly well to laser projection and not so well to traditional light sources,

— Ric Lipson, Stufish Entertainment Architects
"It's amazing and almost has the brightness of LED when it's projected onto," said English on the "elegant solution". He added the Carbon Black material while being the perfect projection surface for the show also brought challenges.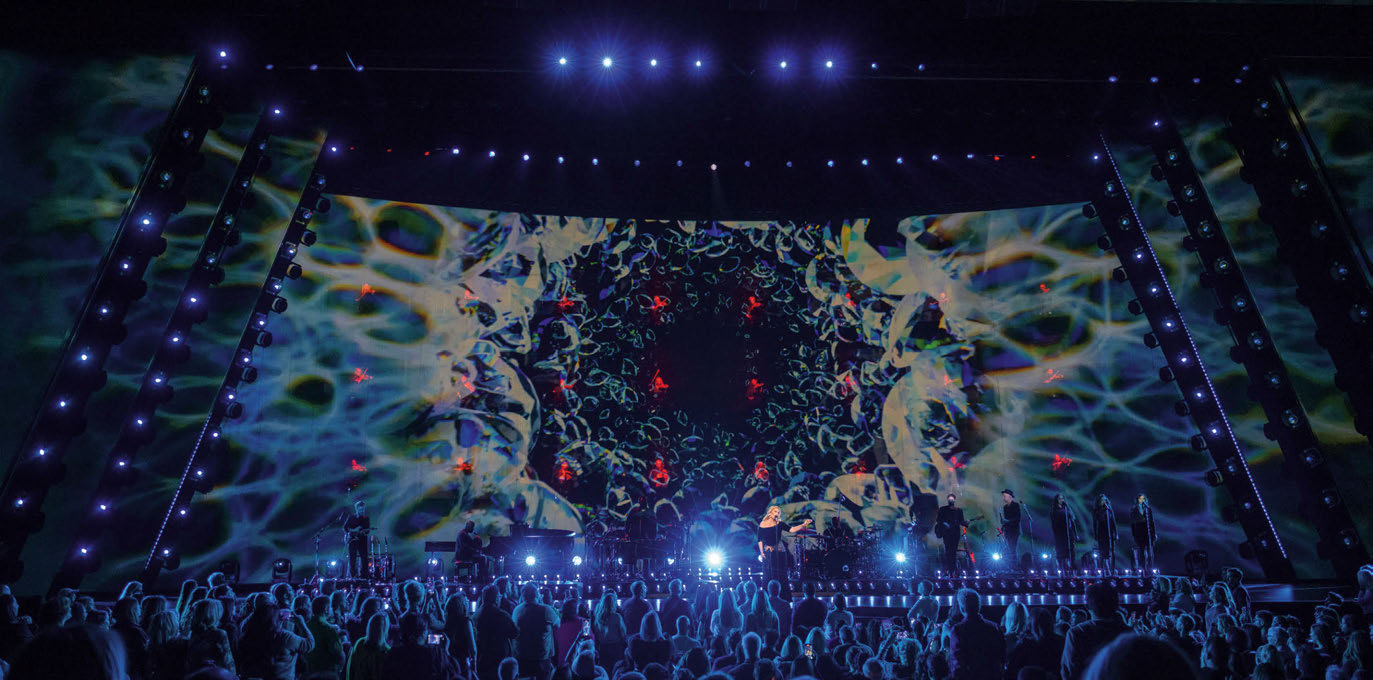 "Its manufactured in limited sizes, the widest roll available only being 16ft [99ft1]. Given the enormity of our proscenium projection area and the limited size of the Carbon Black fabric we could only cover the area using a large number of seams in the fabric, something which Adele found particularly jarring – I therefore employed Rosebrand with their wealth of scenic experience to machine the delicate fabric as seamlessly as possible across the vast proscenium, they excelled themselves, the seams are flawless, near invisible," said English.
Speaking to the creative team, it was clear just how excited they were about the video delivery, which resulted in ultra-high resolutions, with the canvas of 11,860 by 3,264 pixels projected onto multiple surfaces more than 260ft wide.
Askem continued by stating that when the content was shot, the team had to be conscious of how high-resolution the footage would have to be to work on this giant canvas. "We were using high-end RED Cinema cameras that were 8K tipped on the side to ensure we got the highest resolution. Re-rendering any footage of this size was always going to be problematic so we needed to be very in-tune with her to avoid the need for any last-minute changes."
Aiding Askem in the content creation department was Treatment Studios with Sam Pattison and Lizzie Pocock leading the project for the company.
When it came to overseeing the video infrastructure for the production, Askem brought in Media Server Programmer and Operator, Richard Turner, who oversaw the deployment of 10 disguise gx 3 media servers.
"This production was not for the faint hearted," began Turner, not wishing to downplay the level of technical expertise needed. As the video team were projecting onto surfaces on different planes that were also automated, the projector calibration needed to be "ridiculously accurate," stated Turner. "We took a leap of faith with disguise's OmniCal Calibration and it paid off. The relative calibration of the projectors is near perfect after OmniCal." Turner said, explaining the process of making a disguise model work in a real-world scenario. "I've never seen projectors lined up better."
Providing his two cents on the use of projection in the project was disguise's Project Manager, Ollie Newland. "Knowing that gx 3 media servers were about to launch at the time, Solotech recommended that Adele's production design team consider the new product for their increased pixel-pushing capabilities and the processing power they ofter," he stated. "Coupled with our OmniCal camera-based projector calibration system, the disguise solution was a win-win for the show."
Newland also used Adele's show as an example of many more productions looking at projection as a solution over LED. "Although projection has taken a back seat to LED in recent years, Solotech sees it making a resurgence," stated Newland. "Every projector, however, needed a full-scale image and for a show with the scope of Adele's – featuring 18 4K projectors – means driving a massive number of pixels compared to what is needed for an all-LED display."
Turner further outlined the importance of ensuring the best possible image on the projection surfaces, especially as the front row was only four meters away from the downstage surface. This meant the production had to create a workable solution where they were able to create a high enough resolution image without the team at Treatment having to create content that was unworkable when it came to file size.
"Before I was even brought into the production, Treatment called in the help of Brandon Kraemer due to his expertise in post-production workflow and color science," stated Turner. "Between the two of us we went through all the various factors and decided what the best compromise between resolution and bandwidth would be for each surface. We also had the added complication that we run the tracked screens at a higher resolution because of audience proximity," explained Turner. 'But that image either needs to 'stick' to tracking panels and or be 'cut' by them as they move. These two different mapping principles both rely on mm accuracy on the positional data being sent by TAIT Navigator over PSN."
Turner shared his thoughts on PT-RQ50K projectors. "They're a real game changer. They're incredibly bright and sharp and the only real choice for projecting on black. Early on, we asked Solotech to arrange a shoot-out between the available options. Not only were the Panasonic 50ks the standout we also were able to establish what the potential depth of field in focus would be.
"Overall, this production was a textbook example of how to produce a world beating show," enthused Turner. "No egos or major panics and the best team I've ever worked with across the board. I must give a special mention to [Solotech Video Crew Chief] Dany Lambert who somehow managed to get it all in and working, along with [Media Server and Networks Engineer] Jeff Bertuch. Without him, I would have been a gibbering wreck."
Since opening night Askem has been personally directing the IMAG. "I'm a film director first and foremost and I never want to cut an image when she's on screen," he stated. "I think it adds a layer of fuss to proceedings that is unnecessary as we just want to keep her as the focus."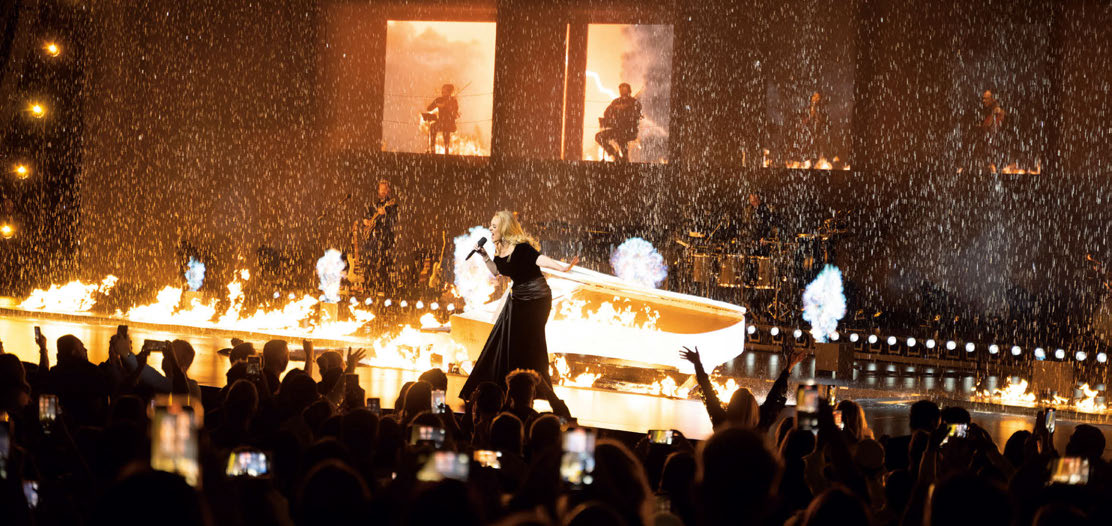 Askem was complimentary to the lighting design. 'With the screen content, we looked to grade the picture in a post-production style to deliver them to screens and Cory's lighting was fantastic to do this. We had to be careful how we managed the levels to ensure consistency each night and we use LUT's on all the screens. If there is any discrepancy in the lighting, the IMAG would be comprised."
Another key player to ensure the lighting worked well for both the IMAG, as well as any photo taken by the audience, was Brett Turnbull. "Brett has been my DOP on numerous film projects over the years," explained Askem.
"On this production he worked closely with Cory, going into the finer detail of the spotlight levels and color temperature to ensure that any photo taken by someone in the crowd would look fantastic."
Askem praised the wardrobe and make-up team, overseen by Lisa Bernson with the aid of Hairdresser, Sami Knight and Makeup Artist, Anthony Nguyen. The production were also keen to commend the work of Jamie Mizrahi, Adele's Stylist and responsible for coordinating the singers outfits each weekend and delivering them to Bernson and her team.
"They provide a level of consistency for every performance," he remarked. In terms of aiding Askem with his technical requirements, the Director gave thanks to Camera Systems Engineer, Paul Barilla. "He's been responsible for implementing Brandon Kraemer methodology every evening with the IMAG images," he said.
Askem used a Grass Valley 4k Broadcast Korona K-Frame switching system, while action was captured on Grass Valley LDX86 4K Broadcast cameras. It's also worth noting that despite the production's propensity for projection, the team also deployed 540 ROE Visual CB5 LED panels driven by four Brompton Technology LED processors.
LOVE IN THE DARK
"The growth of the show was my main focus," Lighting Designer, Cory FitzGerald commented. "Through the show, more of the set is revealed, and we wanted to help build those looks visually with light." He explained that the approach was akin to lighting a Broadway show than to a standard music performance.
Before getting into the design, Stufish had already created a physical 3D model of the show to demonstrate all the various automated moves that would be taking place. From there, FitzGerald and the wider lighting team created the show file in Syncronorm Depence software.
"The frames and the projection were already established before I started creating the lighting design, so I helped to emphasize those set elements and continued those lines and angles." Embracing musicality, the LD further lit background musicians on risers with key light during certain points of the show.
FitzGerald predominantly used Ayrton Khamsin and Domino lighting fixtures – 180 and 26 respectively. "I also had 135 GLP impression FR1s and 72 FR10s," stated FitzGerald.
"This was to give a similar feel to the light on the floor and on the sides. We didn't want to do so many dynamic shifts during the songs, opting instead for more of a theatrical build. The last thing we wanted to do is pull people away from her performance."
The rest of the lighting rig featured 48 Atom, 30 CHAUVET Professional Colorado PXL Bart 16, 14 ACME PIXEL LINE IP and eight Robe FORTES lighting fixtures, the latter controlled by eight RoboSpots. The lighting team also made an in-house rig of 18 Robe T1 and 18 Vari-Lite VL3500 Spots.
"We often use the T1s and the VL3500s to help light the entire crowd so she can see everyone," stated FitzGerald. Adding that they even use the main house lights to show everyone in the room. "I'll think we'll all agree that artistically this isn't always our favorite moment in the show," chuckled Askem, acknowledging that it served the far more important purpose of allowing Adele to see everyone in the venue.
On a show-to-show basis, the lighting was operated by Davey Martinez with programming aided by Associate LD and Programmer, Sam Paine. "They are fantastic," enthused FitzGerald.
'They've both been coming back to do set-up and load-ins to facilitate the show as there are a lot of specific focuses that need to be done, thanks in the most part to all the automation elements and the multiple configurations we have for our lighting trusses."
Another key player for production was Lighting Crew Chief from Neg Earth Andy Beller. Lighting was controlled by an MA Lighting grandMA3 console, operating in MA3 mode.
"This was the first time that most of us had done a major show in this format," stated the LD. "It's come along a long way and the Depence stage of the process – with the help of Earlybird Visuals – ensured that we could dial everything in before we went into Lititz for our first rehearsals."
Despite seeing the show on numerous occasions, FitzGerald was regularly blown away by the 'beautiful' and 'genuinely entertaining' delivery of Adele each night.
"Despite hearing those songs many times, she still makes each performance so unique and personal. It was also great to go back to my theatre roots and approach a lighting show with more restraint. Having loads of fixtures doesn't always make for a better show and I think this one came together well."
"We always jump at the opportunity to work with Cory," added Neg Earth's Lindsey Markham. "His drive to collaborate, both with us as a supplier and inter-departmentally, generates a harmonious and mutually beneficial working environment. He allowed us to propose fixtures and solutions if we felt they were advantageous for the production. It's always exciting to work with designers who are continually looking for opportunities to enhance the show."
SET FIRE TO THE RAIN… AND THE STAGE
Despite the ideas of restraint and theatrical sensibilities, this was still a Vegas show and no Vegas show is complete without its fair share of tricks, gags and illusions. Brought in to create most of the big moments were SFX producer J.E.M FX, with additional support from Rando Productions and Artem. "J.E.M was a major player on this one," enthused English, explaining how the company collaborated with TAIT to build a 100ft flame bar into the rear of the stage.
The company also provided the production with eight Flame Cubes – a propane-based flame system that can shoot flames up to 20ft in the air – along with a total of 30 Silent Storm Confetti Machines.
The SFX specialist also provided a Confetti Drop Rig, which dropped 30lbs of confetti from 40ft above the stage, which was used in Adele's now famous illusion at the end of the show, that had been developed in partnership with magician Rob Lake.
"J.E.M does a lot of work in the film industry and the team did an amazing job for us," enthused English. "Take the rain curtain – we could have gone for a digital version of this effect, but the fact that Elia and Mikee from J.E.M FX custom built us a real one made all the difference. We spent a lot of time developing this look as we wanted the ability to change the 'type' of rain it was producing through the song. It goes from an incredibly heavy downpour to a lighter shower and the team at J.E.M went to a lot of effort to make this possible."
Two of the major gags centered around a piano. The first was during Set Fire To The Rain where the piano burst into flames, while during Rolling In The Deep, the instrument explodes. While the burning effect was handled by J.E.M FX, the exploding piano was put together by UK-based physical special effects company Artem. "Kim Gavin had done various projects with Artem for other artists over the years" explained English.
Gavin spoke about the origin of using the piano as the focus point for many of these moments. "I remember saying to the wider team that if she is a piano ballad artist, we need to make the most of the instrument within the set," he outlined. "One of her most iconic performances was at the BRITs when it was just her and a piano; we were keen to recreate that as a moment, but then we pushed the boat out with these other two moments."
The most Vegas-style gag came at the end of the show with Adele's illusion act. Under the guidance of Magician, Rob Lake, and with the support of Rando Productions, following a large confetti drop onto the singer, Adele seemingly vanishes from the stage. For those who aren't lucky enough not to get out to Vegas, I'd encourage you to look up the video online.
---
Interested in knowing more about CarbonBlack?
---
CAN I GET IT
With the creative team wishing Weekends with Adele to be an immersive experience, it's no surprise that the sound followed suit with the production utilizing L-Acoustics L-ISA to absorb the crowd the singer's back catalogue. Provided by Clair Global, the nine-hang frontal system comprised seven 'scene' arrays each with 14 K2s and two 'extension' arrays of 16 KARAs each. There were also two sub arrays of eight KS28s each and two outfill arrays of 18 KARA IIs each. On the floor were eight KS28s with 29 5XT spatial front fills and two X8 outfills.
The relatively small audio team consisted of FOH Engineer, Dave Bracey; Monitor Engineer, Joe Campbell; L-ISA System Engineer and Audio Crew Chief, Johnny Kierle, with Thomas 'Chip' Valentino looking after all RF and stage, and Nicholas Reiker overseeing crew communications.
Having handled Adele's FOH mix since 2015, Bracey has been with her as she ascended from arenas to stadiums. "As far as her live show goes, for this residency the band has stayed exactly the same with the only addition being that the string section has expanded from 12 to 24," outlined Bracey. "This production was my first foray into L-ISA and it was a perfect opportunity in a great venue to see how special we could make it sound. Our goal was to set a new audio standard in Vegas… but I'll leave it for others to say if we achieved this."
Bracey mixes the show on a DiGiCo Quantum 7. "I find that mixing has become easier as the spacial elements of the show created by the L-ISA scene is something quite special that I can mix into. It's a very different sound and feeling compared to listening to just two PA hangs with a phantom image between them," he described.
"This was my first time designing an L-ISA show – both from a system design perspective and an immersive mix perspective," said Kierle. "The L-ISA design approach and help from the team at L-Acoustics made the loudspeaker design process simple. The only compromises I had to make were with the front fills. We wanted a clean stage edge with no loudspeakers visible. While originally pushing for X8 front fills, I opted for smaller 5XT spatial fills, which ended up being perfect for the application."
Kierle was also keen to compliment the work of Rob Gurton from Clair Global who was the "brains behind" the L-ISA setup for the show. "Preparing FOH for the immersive system offered challenges neither Dave nor myself had experienced," explained Kierle.
"This mostly consisted of finding infrastructural solutions for the new hardware (L-ISA Processors) and learning corresponding software control (L-ISA Controller). For example, instead of taking a LR feed from the console to a drive rack, we had to decide on solutions to take all 96 outputs from the mixing console into my world. Similarly, we had to find solutions to feed both primary and secondary processors, while making sure everything was clocked, networked, and powered suitably."
The System Engineer continued by discussing the challenges of designing a system around an already busy grid.
"This show has a very busy roof but thankfully very little in front of the proscenium," explained Kierle. "We had enough real estate in the grid upstairs to position all sources where desired, and even enough space for all hoists, motor control, amplified controllers, and signal to power distribution."
One of the biggest challenges for Kierle in the design phase was the false proscenium. "The entire proscenium is treated as a projection surface," he stated. "I tested an enormous number of materials to find the most suitable combination of acoustically transparent projection surface and acoustically transparent black backing. All this information was considered in the mechanical design of the loudspeaker system resulting in a fantastic looking projection surface that doesn't compromise the performance of the PA."
Bracey explained how there was still a large element of live mixing during the show. "Musicians play slightly differently each night, so there are always adjustments to ride. Every song starts with a snapshot of course, but I use timecode-directed snapshots to fade in, for example, the sting mics before they play or as a means of bringing up the mics after their riser stops moving to negate the riser noise."
Bracey was also keen to compliment the support of the production's audio supplier. "Clair has been a very easy company to work with and a pleasure on every level. As for the residency, I've been very happy with the experience. The chance to continually improve on the result and the fact we only work weekends – it speaks for itself really."
Clair Global also supplied the communications package for the project. "Nicholas Reiker, who is responsible for implementing all the house comms equipment into our greater communications system, is an extension of our audio team," enthused Kierle, complimenting the work of the technician.
Handling the singers' and musicians' on-stage mixes was Joe Campbell, who also opted for a DiGiCo Quantum 7. Having worked with the singer since 2008 he walked TPi through his set up for this iteration of her live show. "My desk and control position is upstage left but quite far away from the stage with no view of the performance area at all," stated Campbell. As a result, the Monitor Engineer had several monitors supplied by video supplier Solotech, which gave an overview of the whole stage from camera positions out front to close-ups of the artist throughout the show.
"There's no speakers on the stage, although I have the L-Acoustics SYVA at my monitor position," said Campbell. "All performers and crew have their own bespoke IEM mix, meaning I'm doing monitors for around 40 people!" While the orchestra were supplied with generic earbuds, all the band and crew have moulds provided by 64 Audio.
For wireless distribution of the IEM mixes, the production utilized the Wisycom MTK952 IEM transmitters and MPR50 receivers. "I used the Wisycom IEM system which is very versatile and sounds fantastic. The combination of DiGiCo, Wisycom and 64 Audio gave me the best sounding mix I've done in my career so far." For vocal mics, the production utilized the Sennheiser 6000 Series wireless microphones.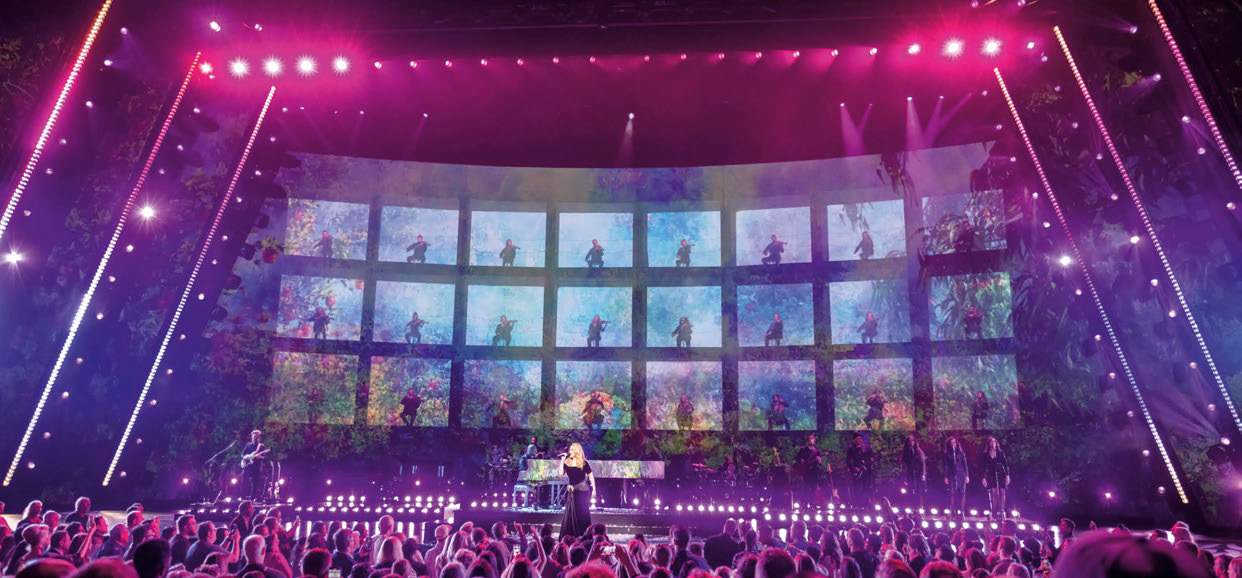 ONE AND ONLY
If there was one word to describe Weekends with Adele from a production standpoint, it would be 'purposeful'. Having spoken to the various departments involved, the focus on creating a show which the singer was not only comfortable to perform in but also was very much 'her show', was clear. In a time when we often see productions going above and beyond with more elaborate moments, to have a production that demonstrated restraint was certainly refreshing.
As Ric Lipson stated, although it may be simple, the technical innovation going on behind the scenes is truly remarkable. Much like Adele's music – on the surface they may be piano ballads but delve a bit deeper and you uncover layers of complexity that keep you coming back.
---
Interested in knowing more about CarbonBlack?
---
www.adele.com
www.stufish.com
www.silent-house.com
www.serepentfilms.com
www.kimgavin.com
www.rosebrand.com
www.roblake.com
www.treatmentstudio.com
www.negearth.co.uk
www.solotech.com
www.clairglobal.com
www.jemfx.com
www.taittowers.com
www.randoproductions.com
www.artem.com
www.sincityscenic.com
www.carbonblack.technology
—
Words: Stew Hume
Photos: Stufish Entertainment Architects
This article originally appeared in TPi #277 – Sep/Oct 2023.
–
| | |
| --- | --- |
| 1 | CarbonBlack Hybrid Pro, offered by SI, is available 16ft tall and 99ft wide (and can be seamed for larger sizes) |
---
Let's do this.
Since the beginning, it has been our mission to bring you the big screen experience – with the lights on. Let's work together.
Get Started