NOTHING AGES FASTER THAN HOME ELECTRONICS, especially home theater equipment. Remarkably, the A/V systems in this award-winning luxury residence had stood the test of time, delivering content to the owners without a hitch for 20 years. Although some components were still going strong, the owners were ready to go bigger, brighter, mightier and more immersive.
A/V Time Machine Moves Full Speed Ahead
"Our clients for more than three decades, have always been inclined toward the 'bleeding edge' of technology. But while they're adventurous, we do our diligence and testing before trying new technology to makes sure it's ready for prime time, and always monitoring what's been installed," says Terry Morton, Owner of Land & Sea Entertainment, who handled both the original house-wide system, as well as the recent top-to-bottom overhaul of the home's automation system, distributed audio and video system, power protection and more.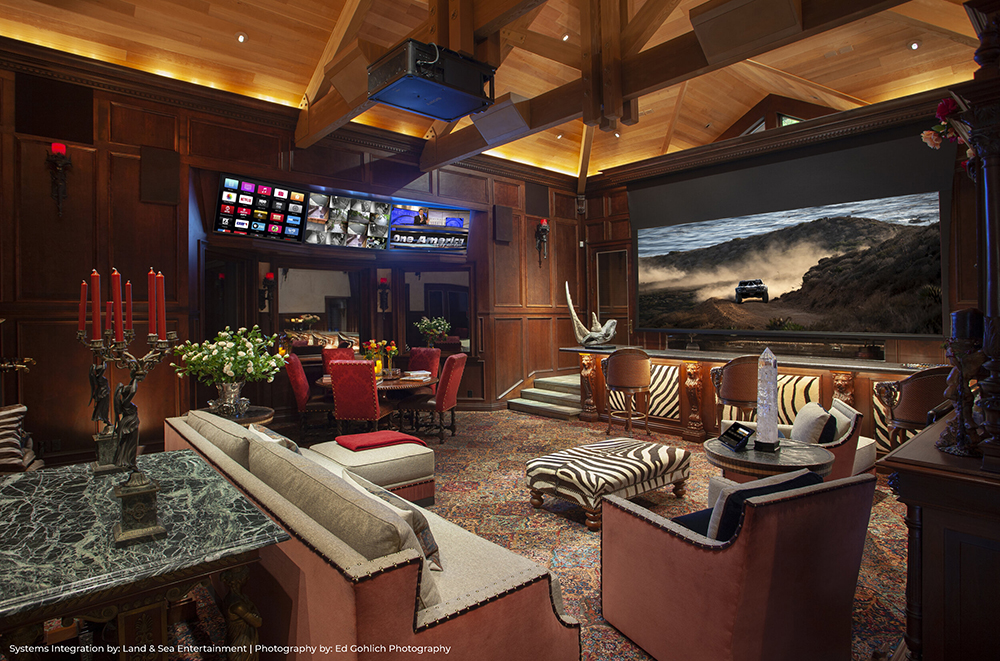 Screen Innovations Sets the Renovation Wheels in Motion
Having experienced decades-worth of video evolution, the owners were eager to embrace the next generation of projection technology. Large ambient light rejecting screens from Screen Innovations were added to two main entertainment spaces. Paired with the latest laser projectors and Dolby Atmos equipment, they bring a new level of realism to movies and gaming for a highly immersive entertainment experience.
For the living room, a motorized 170-inch, 2.35:1, acoustically transparent, 1.1-gain Maestro Screen Innovations screen was paired with Sony's flagship VPL-VW5000ES 4K laser projector and a 22-channel Dolby Atmos audio system. Land & Sea went with SI again, outfitting the home's dedicated theater with the same make and model of screen, but in a fixed 120-inch version, and complemented it with a Sony 885 ES laser projector and 11 channels of Dolby Atmos surround sound.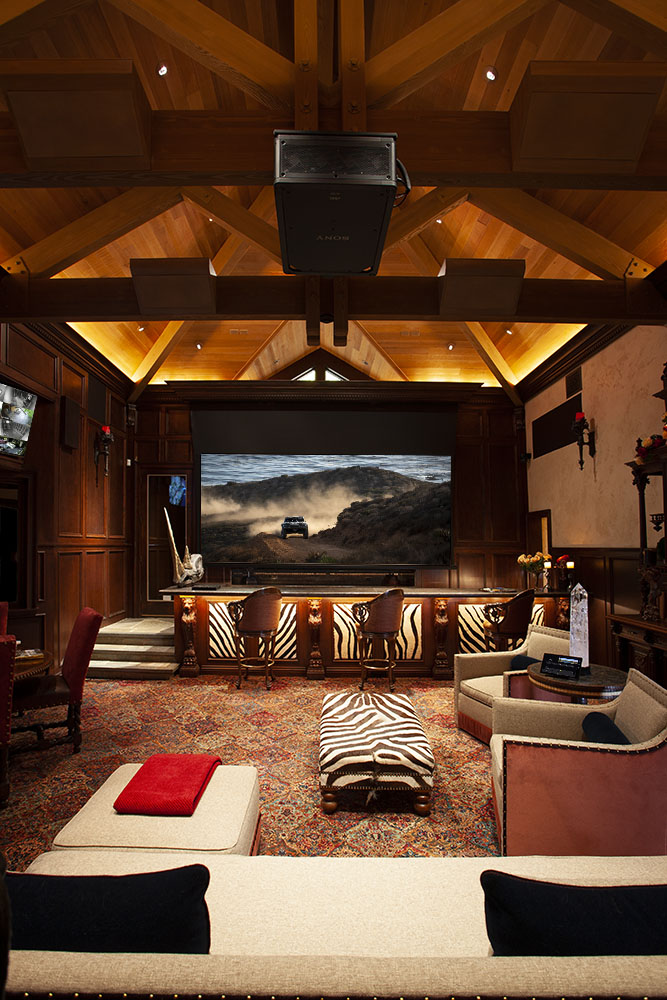 Living Room: Dual Screens Support Casual and Serious Viewing
Based on a thorough analysis of the room architecture and design, an "army" of highly skilled woodworkers and techs installed the 170-inch SI screen and its motorized assembly into a matching soffit crown detail about two feet in front of the room's legacy 102-inch Stewart Filmscreen screen. The owners elected to keep the room's original display for more casual viewing. Not much larger than today's flat-panel TVs, it doesn't block the window preserving that all-important outdoor view watching the news or a TV show.
Things get serious, though, when the SI giant descends into the room. The whole atmosphere changes, thanks to the integration of a Crestron control system. With one command from any Crestron control device, the screen lowers into position, the Sony projector positions its lens, the lights dim, the storm shutters close to block out sunlight, and a surround-sound system comprised of JBL Synthesis, Crown, and James Loudspeaker equipment delivers 15,600 watts of high-current audio power.
"SI was the only vendor who could make a screen with transparent black masking that's actually part of the screen material," says Morton of the decision to utilize SI for this project. Unlike other masking materials which block the sound from speakers behind it, or that must be perforated, SI's unique application of black dye on the sides of the material maintains a consistent, uniform acoustical transparency across the entire width of the 170-inch diagonal screen. "It creates a seamless screen surface for a cleaner, sleeker appearance, without hindering the dispersion of sound," Morton says.
Savant Zoom Room Integration
The "Biggest Little Theater" Gets Even Bigger with SI
For a more intimate, private viewing experience—and the chance to get into some serious gaming action–the homeowners escape to a "bunker" theater beneath the driveway and detached from the house. The 10-by-20-foot entertainment destination had utilized the same A/V system for 20-some years and was long overdue for a technology refresh. So out went the 92-inch projection screen, the cabinetry flanking it, and the loud, "Volkswagen-size" CRT projector. In their place went a 120-inch acoustically transparent Maestro SI screen and a sleek Sony VPL-VW885ES 4K laser projector. The removal of the cabinetry freed up enough space for a screen to stretch the entire width of the room, and its acoustical transparency allowed the front surround-sound speakers to hide behind it.
Land & Sea boosted the bass by adding four 15-inch and two 12-inch custom James Loudspeaker subwoofers to a suite of existing and new JBL Synthesis speakers and high-current Crown amplifiers to deliver a 7.6.4 Dolby Atmos audio. With such serious gear tucked into such a small space, the "Biggest Little Theater," definitely lives up to its name, Morton says.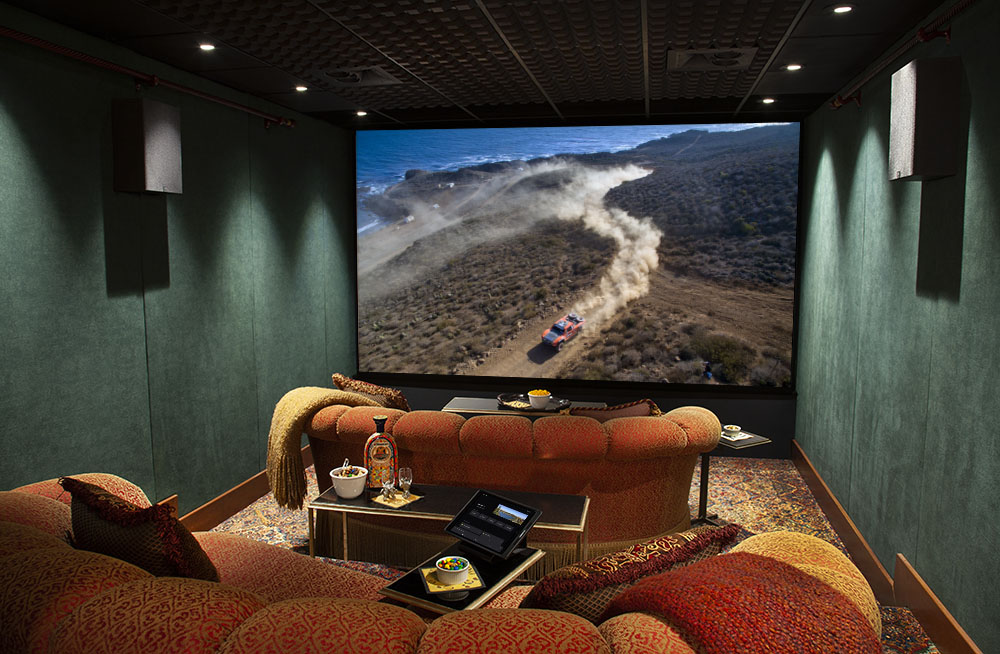 Flexibility, Ease of Installation, and Customization Set a Standard in Screen Design
It's never easy to integrate technology into an existing home, much less a screen surface that measures 170-inches diagonally. Thanks to willing homeowners, an experienced team of A/V integrators, and craftspeople–and a manufacturer like SI who went the extra mile to streamline the process and create something totally unique–the transformation of the two award-winning entertainment spaces was trouble-free and the end-result a seamless extension of the home's original design and intent.
—
This article was originally appeared on Technology Designer.