The impetus for the creation of Consexto's sensational showroom was to demonstrate how big screens can integrate seamlessly with the design of any room. "We want our customers to know that with the right equipment and design we can transform any space—a bedroom, a garden, or a garage—into an amazing entertainment area while still allowing it to serve its primary function," says João Vitoriano, CTO of the Portgual-based architectural and AV integration firm. "The Zero-G screen from Screen Innovations that's installed in the living room section of our showroom lets us demonstrate this concept while introducing our clientele to a unique, innovative, eye-pleasing alternative to typical motorized screens and big-screen TVs."
Visitors of the Zero-G showroom connect instantly with the casual, modern atmosphere, accented by comfortable couches and a large custom-built shelving unit. Nothing about the 500-square-meter room suggests that it contains some of the most advanced and architecturally friendly entertainment technologies available today. And that's exactly the point, says Vitoriano.
We want our clients, as well as trade partners including architects, interior designers, and realtors, to understand there are AV options that easily adapt to and complement high-end home designs. When showroom visitors experience how well the Zero-G motorized screen accomplishes this objective, they're sold.

— João Vitoriano, CTO Consexto
At the tap of a button, the front of Consexto's living room show space morphs into a video display, as a 4-meter-wide Zero-G screen quietly descends from a slim housing mounted discreetly within the steel beams of an open ceiling. More than just a screen on which to view movies, games and other content, the Zero-G adds an element of wonder to the environment. "The wires that suspend it from the ceiling are so small, you can't see them," Vitoriano says. With no front wall to serve as its backdrop, only an open bookshelf that separates the theater from a conference room, the effect makes the screen appear to levitate in thin air. "That's why we've dubbed this area 'The Levitating Room,'" Vitoriano explains. "Like the other areas of our showroom, our intent is to sell not products, but the experience."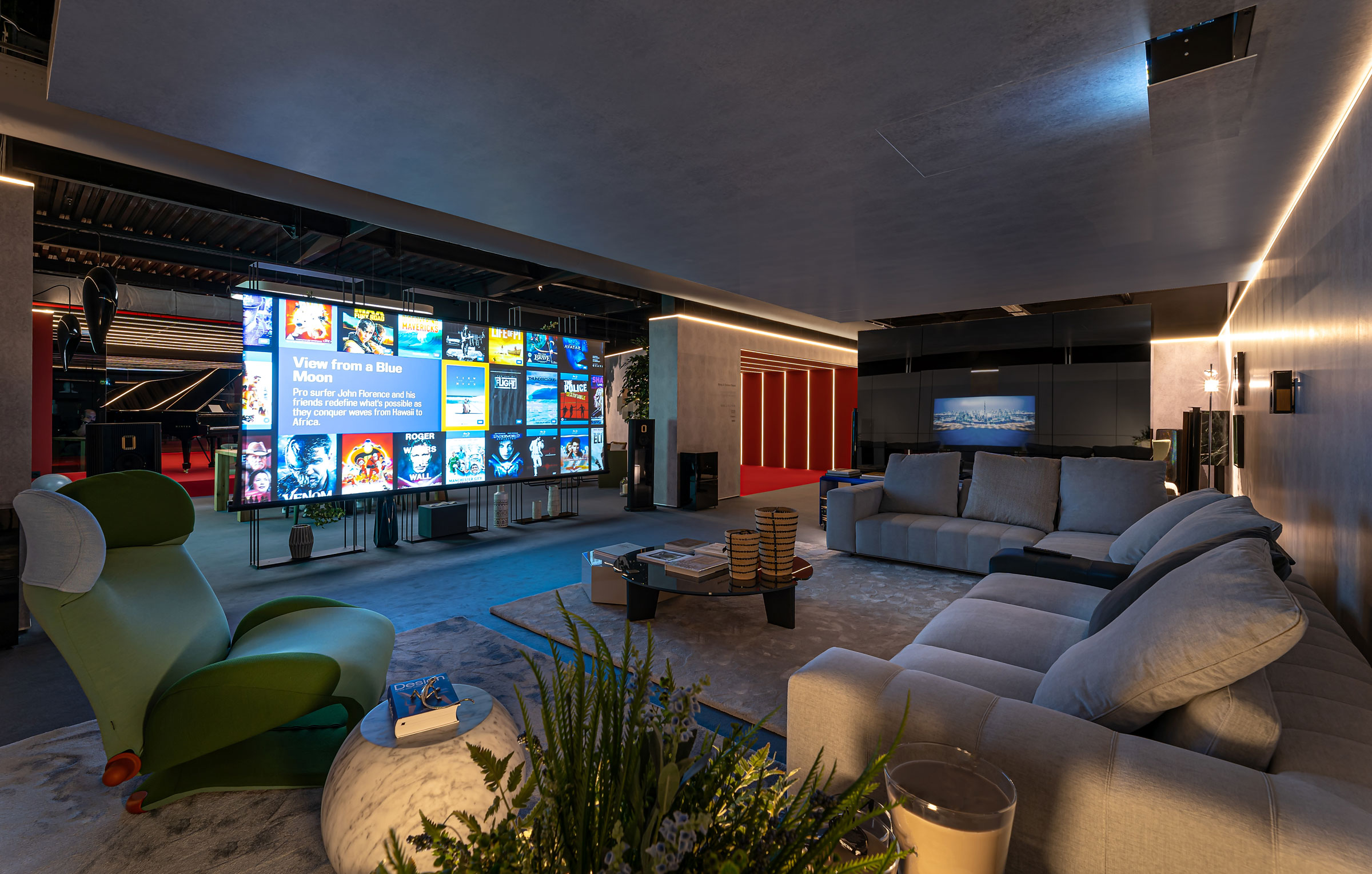 The Zero-G screen is fed by a Barco Balder video projector, hidden, of course, above the ceiling. Only a compact, folding motorized mirror assembly from Display Technologies reveals itself. Images from the concealed projector to project off the mirror and onto the screen. Complementing the video is audio from a Steinway Lyngdorf system comprising two Model O speakers in the front, two Model S speakers in the back, two Boundary subwoofers, and a P100 processor to create a phantom center channel. Minus a center-channel speaker, the are no obstructions for the Zero-G to work around.
Consexto's design-inspired Zero-G showroom seems to resonate strongly with past and potential customers. Since opening two years ago, the 500-square-meter show space has drawn plenty of attention from architects, interior designers, and homeowners, even serving as a destination for special events hosted by Consexto, luxury retailers, high-end brands, and clients. "One of our clients has used the Levitating Room to hold his own private concerts," says Vitoriano. "The floating SI Zero-G screen offers a sensational video backdrop for all kinds of activities, and we're fortunate to have the ideal environment where we can open people's eyes here in Portugal and worldwide to the possibilities."
---
Interested in knowing more about Zero-G?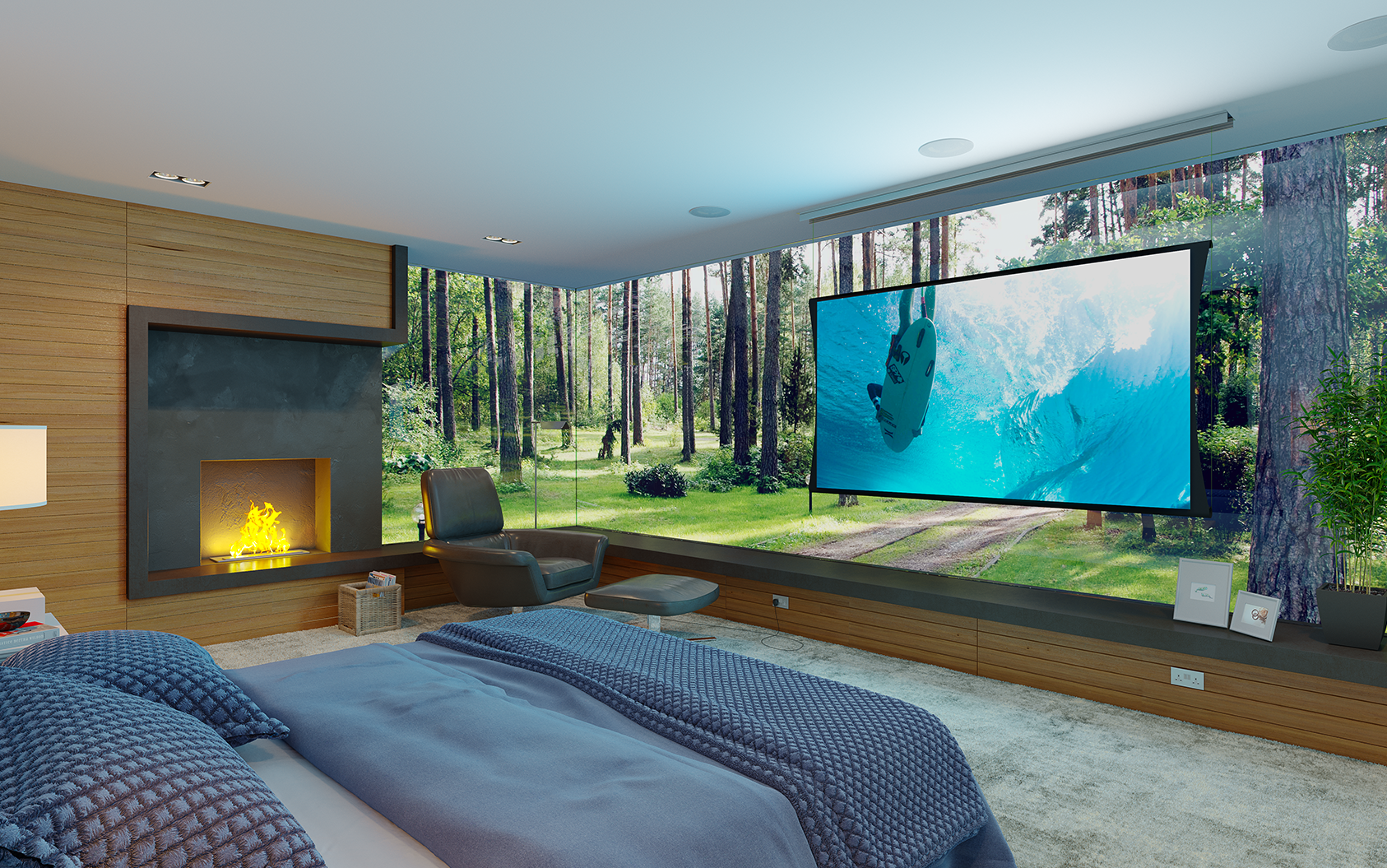 ---
System Configuration:
Screen: Screen Innovations 160" Zero-G with XX Material.
Projector: Barco Balder. Display Technologies compact, folding motorized mirror assembly.
Audio: Steinway Lyngdorf system with (2) Model O speakers in front, (2) Model S speakers in back, (2) Boundary subwoofers, and a P100 processor to create a phantom center channel.
INTEGRATOR
CONSEXTO
www.consexto.com
mail@consexto.com
+351 222 022 106
---
Let's do this.
Since the beginning, it has been our mission to bring you the big screen experience – with the lights on. Let's work together.
Get Started