"IT'S LIKE A WEIRD GAME OF 'WHERE'S WALDO' just trying to find these shades," remarks David Huse of the Screen Innovations (SI) motorized shades he recently installed on the windows in his living room and kitchen. The owner of Theater Advice in Dallas, Texas, who has installed technology into peoples' homes for more than two decades, Huse has acquired a knack for blending technology discreetly with the home design. But the Nano shade solution from SI does the job so well, he says, that even though it's completely exposed, you don't even notice that it's there.
"When they're down they look like a standard fabric shade, and that's okay; it's what they look like when they are up that makes them different," Huse continues. That difference and Huse's enthusiasm for the product stems from the super-small, streamlined form factor of the Nano motorized cassette.
Measuring just 2.75 inches tall, the Nano cassettes in Huse's home tuck snuggly inside each window frame. Available in more than 12 colors, the warm white Huse chose for his living room and kitchen blend right in. "Nano is the only motorized shading solution we've found that looks just as great when it's not being used as it does when the shades are down," Huse says. "It provides a finished, clean, modern look, and that's the whole point of having window shades in the first place."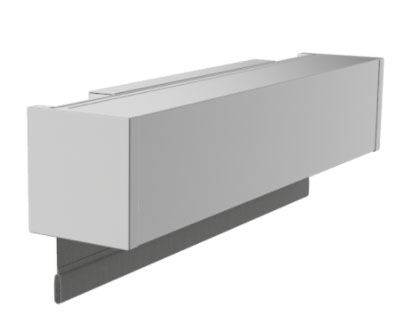 Beauty means nothing, though, if the shades are difficult to mount and operate. Screen Innovations has covered all the bases by incorporating some "killer installation tools and technology," Huse notes. "The Nano cassettes take longer to unbox than they do to put up, and now that they're Zigbee 3.0 compliant, they hear and respond flawlessly to voice and pushbutton commands from our Control4 system. I have four kids banging on buttons and shouting at them all day, and they never miss a beat."
Building the perfect motorized shades for his windows was a breeze, too, requiring only a few minutes for Huse to enter on SI's Flow online design software the window dimensions, the cassette color, mounting hardware, fabric choice, Zigbee 3.0 option, and other specifications. The cassettes shipped from Screen Innovations to Huse pre-assembled, and in less than 45 minutes, he had six Nano cassettes installed, programmed, and running smoothly.
"The Zigbee 3.0 capability does require some additional planning," he says. "You need to install a few Zigbee 3.0 nodes in the house to create a mesh network for the shades to receive commands without a hitch." Screen Innovations supplied those nodes to Huse, too, which comes in the form of a simple plug-in module.
As a beta- tester of the Nano motorized shades, Huse was in the ideal position to pick apart elements of the design and performance. But there's nothing he would change about these shades. "Screen Innovations took a motorized shade and made it cooler and better with Nano." The only thing Huse does plan to change is many of the shading systems currently used by his clients to Nano. "It's insanely easy to install and Zigbee 3.0 makes it insanely easy to automate, so the switch shouldn't take long."
Huse shares his experience in this short video:
To learn more about Nano and SI shade products and technology, click here.
—
This article originally appeared on Technology Designer.