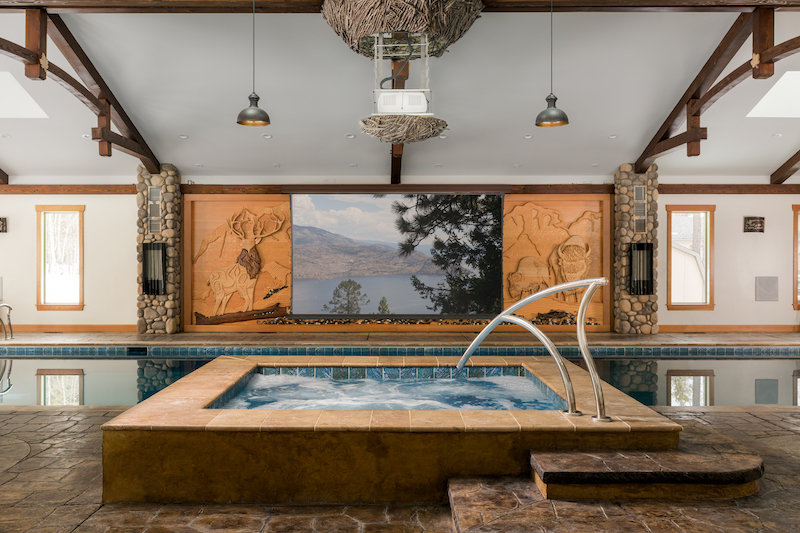 Photos by Klassen Photography
A "dive-in" swimming pool theater accommodating 50 people (or more) isn't a common request, but these homeowners put in the order for a 4,600-square-foot pool pavilion that transforms into a "floating" cinema at the tap of a button. Breaking the mold in home theater design, a 180-inch motorized Screen Innovations (SI) screen sets the stage for a most memorable viewing experience, even before the show starts.
Rafts, floaties, and noodles serve as casual "seating" options in the swimming pool as a video projector descends from the rafters from a handcrafted "nest" that discreetly hides the gear. At the same time, a massive, motorized SI movie screen lowers from a wooden beam, where it is surrounded by a multi-dimensional wooden mural that provides clever acoustical benefits.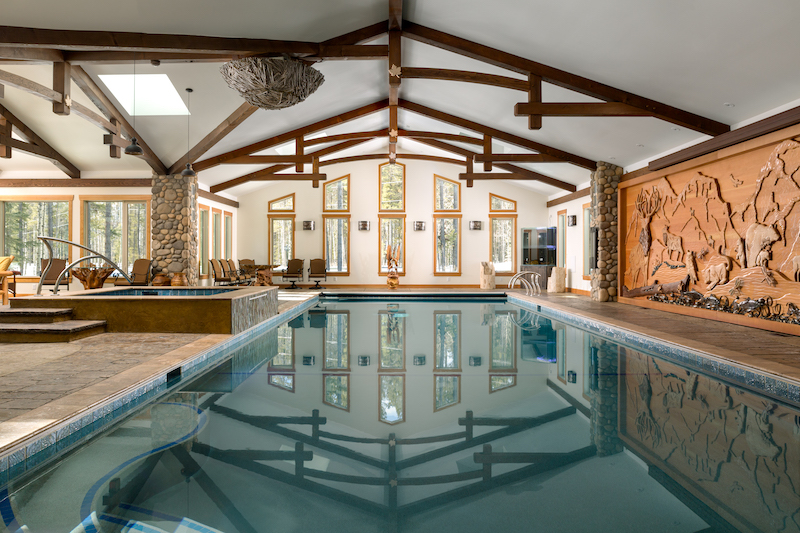 Overcoming Challenges
Moisture, humidity, and an abundance of natural light created a tough environment for the home theater components to perform. Hard surfaces created poor acoustics. Extracting moisture and chemicals commonly found in aquatic environments was critical to prevent motors and materials from rusting and warping. High lumens and a small, lightweight chassis were required of the projector to combat incoming sunlight that would otherwise have made images on the screen appear muddy and washed out, and to accommodate a custom "bird's nest" projector lift to complement the nature-scape of the mural and outdoors-inspired aesthetic of the pool pavilion.
Solution
As the saying goes, where there's a will there's a way. Integration firm GiCor and builder Alair Homes collaborated closely to devise a ventilation system that would properly wick moisture, chemicals, and contaminants from the air, protecting the AV gear and creating a comfortable environment for the homeowners and their guests. Concurrently, a robust heating and cooling system conditions the room for year-round use.
GiCor specified Slate screen fabric to combat the ambient light. It unrolls over the front of the screen tube. This front-roll design allows the screen to clear the wooden mural as it descends from its hiding spot. The SI ambient light-rejecting screens pairs perfectly with a Casio 4K high-lumen video projector; together they ensure the on-screen picture is bright and crisp even on sunny days.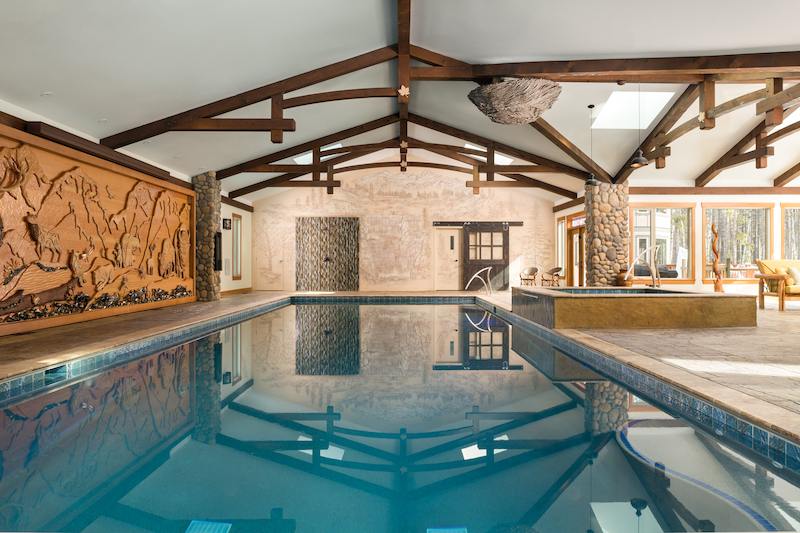 Nakymatone invisible speakers installed throughout the space deliver rich sound and TruAudio subs bring the bass when needed. Chosen for their ability to disappear behind wall surfaces yet project audio as if they were placed out in the open, the high-performance Echt and Mooi Nakymatone speakers complement the dynamic video presentation without detracting from the unique architectural elements of the pavilion.
Programmed by GiCor for simplicity, a waterproof remote provides push button access to 2,000+ movies, cable boxes, Apple TV, and footage captured by surveillance cameras. The components are stowed in an equipment rack inside the house and accessible to any and all AV systems throughout the property.
Equipment
Casio 4K projector
Integra surround-sound processor
QSC and TruAudio amplifiers
Control4 receiver
TruAudio subwoofers (4)
Nakymatone invisible speakers — Echt & Mooi models — (12)
Control4 keypad and remote
Grandview motorized lifts
Project Partners
Builder: Alair Homes, Calgary
Interior Design: Pop Design Group, Calgary
Mural: Dwight Lockhart and Coastal Carvings
—
This article was written by Stephanie M. Adamow and originally appeared on Connected Design.