Canadian summers are short and sweet. But as the owners of this custom home in Ontario discovered, there's a simple way to extend outdoor enjoyment year-round. Having worked with SI dealer Jeff Beam of Unlimited Home Theatre on tech projects in a previous home, they contacted him for a consultation of their new residence. "I immediately thought of SI's outdoor Zen shading system when I saw their large deck, complete with outdoor kitchen, hot tub, and dining area, Beam says.
Although I had never installed Zen shades, I knew they were the perfect solution to make this outdoor space usable when the weather turned cooler, plus provide privacy, shading, and an insect barrier during the summer months.

— Jeff Beam, Unlimited Home Theatre
It didn't take much to convince the homeowners—after watching an SI video demonstrating the ease by which the shades could be controlled, they were sold.
It would be an ambitious first stab at outdoor shading for Beam, as several sections of various sizes would wrap around 1,100-square-feet of a 1,400-square-foot deck. However, both Beam and the homeowner, a building contractor by trade, were eager to give it a shot. "We quickly found out that accurate measurements are crucial," Beam remarks. "It was the most challenging part of the project; as the house continued to settle the wooden beams around the deck would shift slightly, throwing off our earlier measurements." Eventually resorting to shims to keep the beams in place, Beam was ready to begin the installation of the SI Zen shades.
With guidance from SI and their intuitive Flow shading design software, Beam placed the order, and in a few days hit the jobsite with materials in tow. Per the owner's request, Beam went with a black SunTex95 shade to match the home's exterior with a 5% openness factor for the most effective climate control. "A tight weave like this prevents air from escaping or entering the space," Beam explains. "The owners wanted to be able to open the patio doors to allow the air from inside the house to cool and heat the outdoor living area. Plus, it also gave the owners complete privacy."
Beam made it easy for the owners to lift the shades when they'd rather enjoy the view of the backyard. Using SI's Link Z Pro gateway, he enabled the Zen system to be controlled via Google Home voice commands. "Hey Google, raise all shades," is all it takes to transform the space. Specific sections of shades can be controlled independently, for example, "Hey Google, raise the dining room shades," opens only that part of the deck. For a personal touch, when the owners lower those shades later, Google responds with a courteous "I hope you enjoyed your dinner." Google voices a number of other well wishes based on the positioning of the shades.
If they'd rather not talk to the Zen shades, the owners can always use one of several handheld remotes, including a waterproof model that's perfect for control from the hot tub. The combination of simple control, elegant aesthetics, and the creation of a new living space have made this high-tech addition a favorite of the homeowners. The project was also good for Beam. "My confidence level has escalated, and I have since landed four more Zen projects," he says. "Once they see Zen, they love it."
---
Interested in knowing more about Zen Outdoor Shades?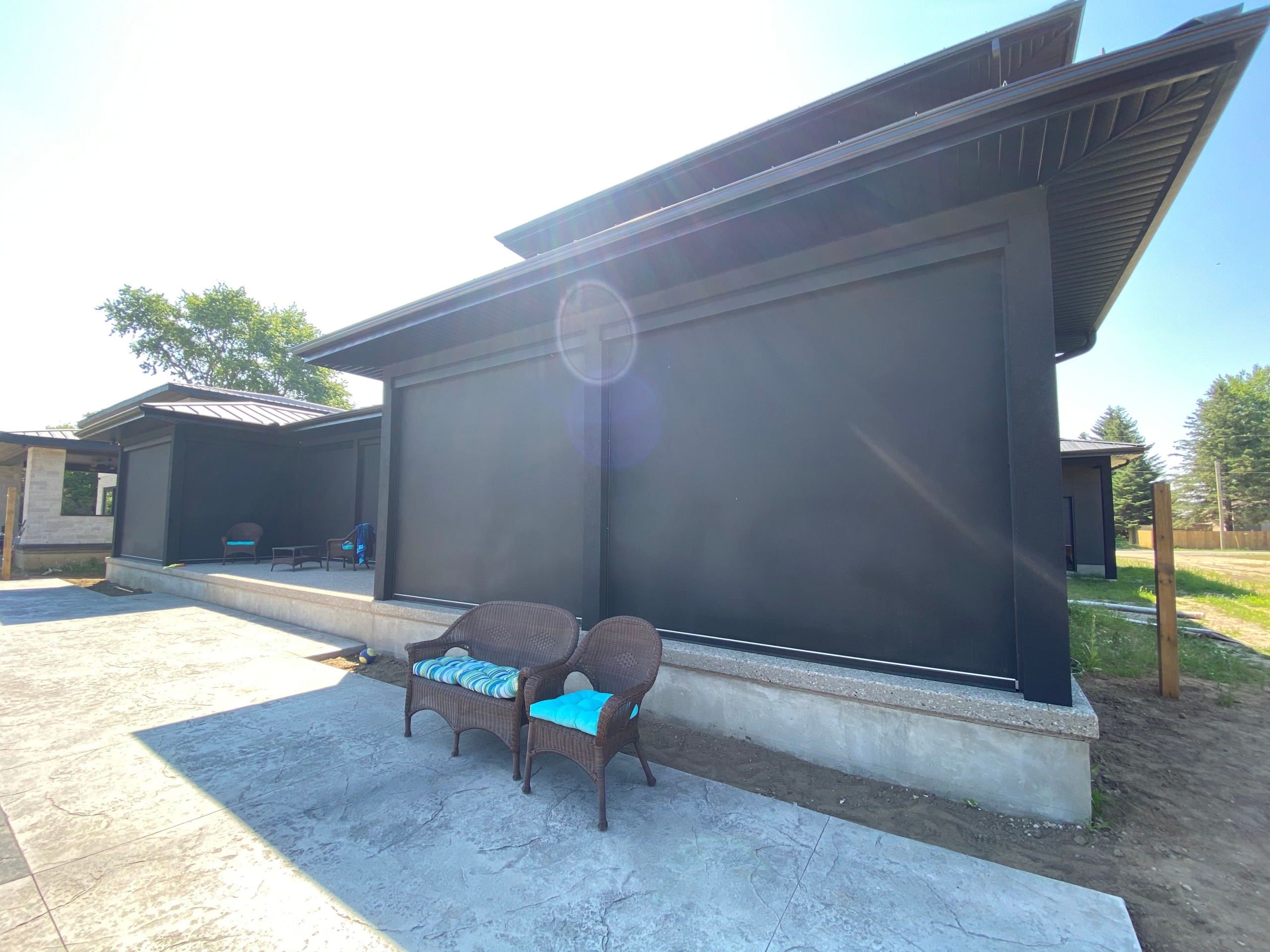 ---
INTEGRATOR
Unlimited Home Theatre
https://unlimitedhometheatre.com
(519) 289-0999
---
Let's do this.
Check out SI's growing line of Wired and Wireless Indoor and Outdoor Shades. Let's work together.
Get Started