Location
One of the world's most known train station, Berlin Friedrichstrasse, played a big role as a border station in the history of divided Germany (1949-1989). During the Cold War, Friedrichstraße became famous for being a station that was located entirely in East Berlin yet continued to be served by S-Bahn and U-Bahn trains from West Berlin as well as long distance trains from countries west of the Iron Curtain. The station also was a major border crossing between East and West Berlin.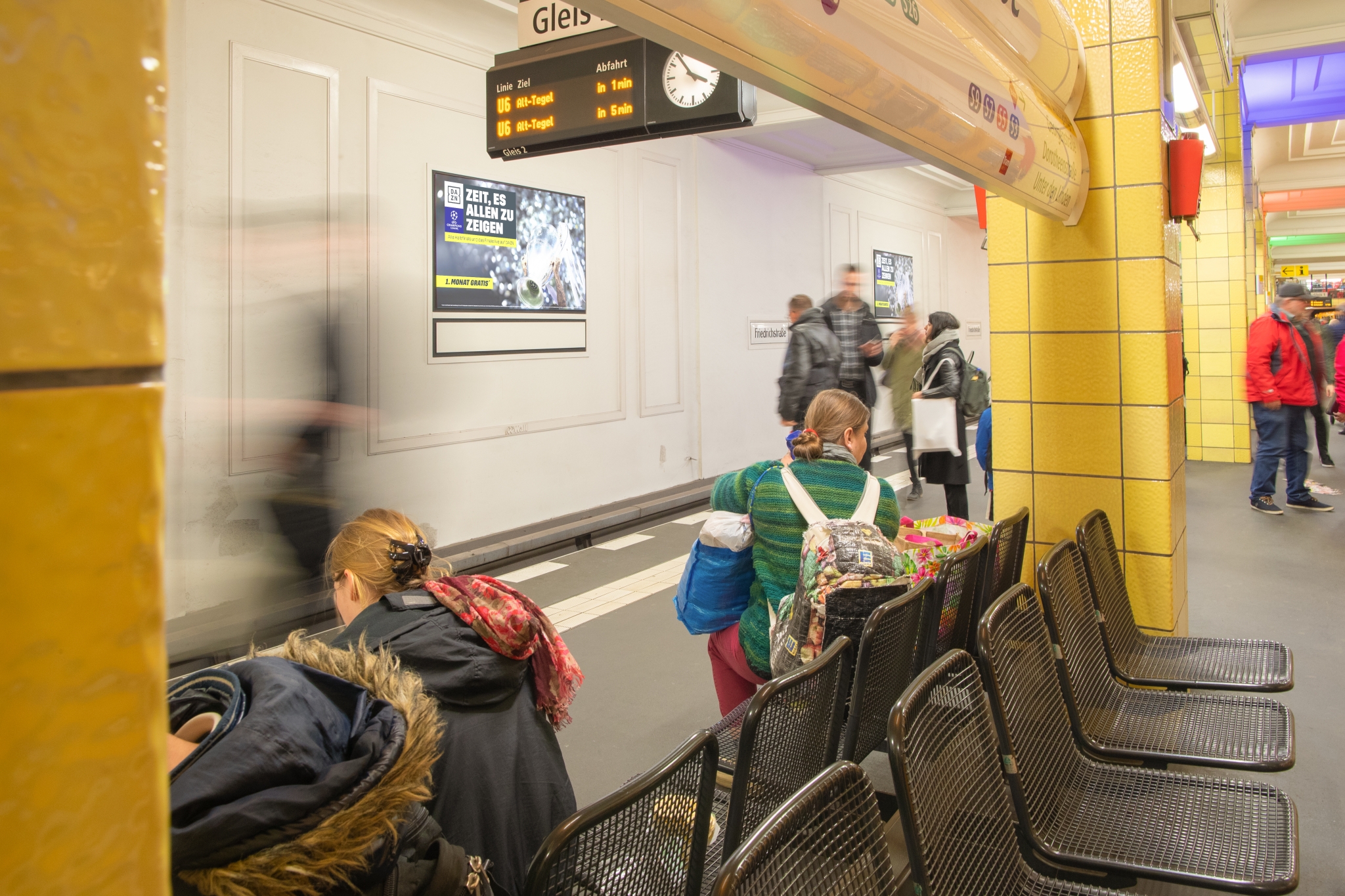 Concept
Developed by Wall GmbH in Germany, under contract of BVG Berliner Verkehrsbetriebe (Berlin Public Transportation Association). Digitization of advertising space, immediate streaming of new content, dynamic imagery as eyecatchers. The focus is more on dynamic advertising.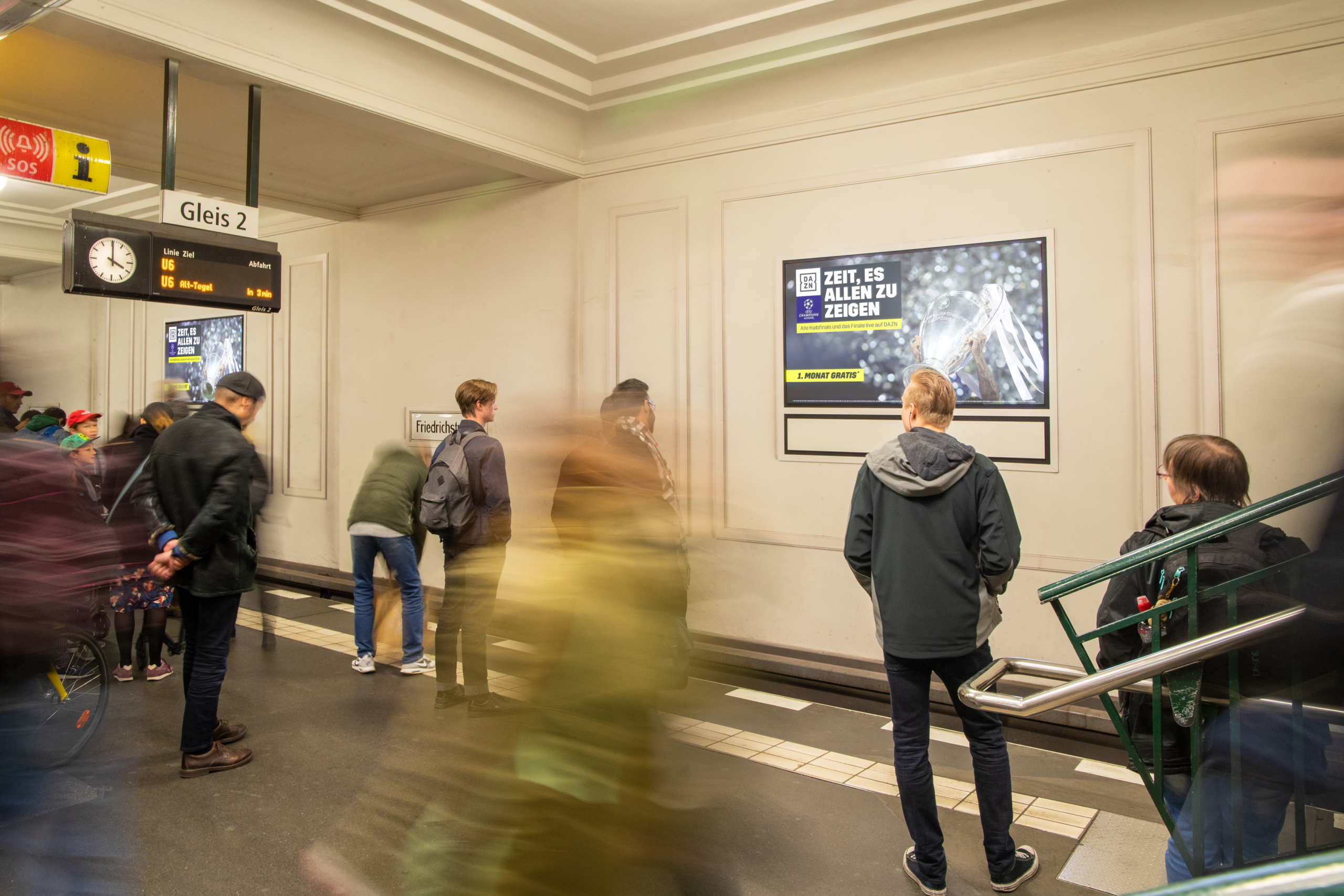 Challenges
Coordination of the new projectors on each projection screen. Construction of a new projector housing including cooling circuit. Integration of the entire projection system under the conditions of the 'Monument Protection Authority'.
The screens could only be installed on the original space of the original posters advertising locations. The spaces were framed, and the screens needed to 100% match the given dimensions. Nothing could be altered or changed. The projector housings needed to be conceiled to not be a distraction to the appearance of the original subway station.
"A subway station is a public space. We could only work at night, when the station is closed. We only had 3 hours per day for this. We prepared the wall and added mounting brackets to the perfectly fitting rigid projection panels supplied by Screen Innovations. Time was of essence, and it was a very slow process to mount all 12 screens, 6 on each side of the railway platform."
– Thomas Schnuppe, Competence Area Manager – Digital Media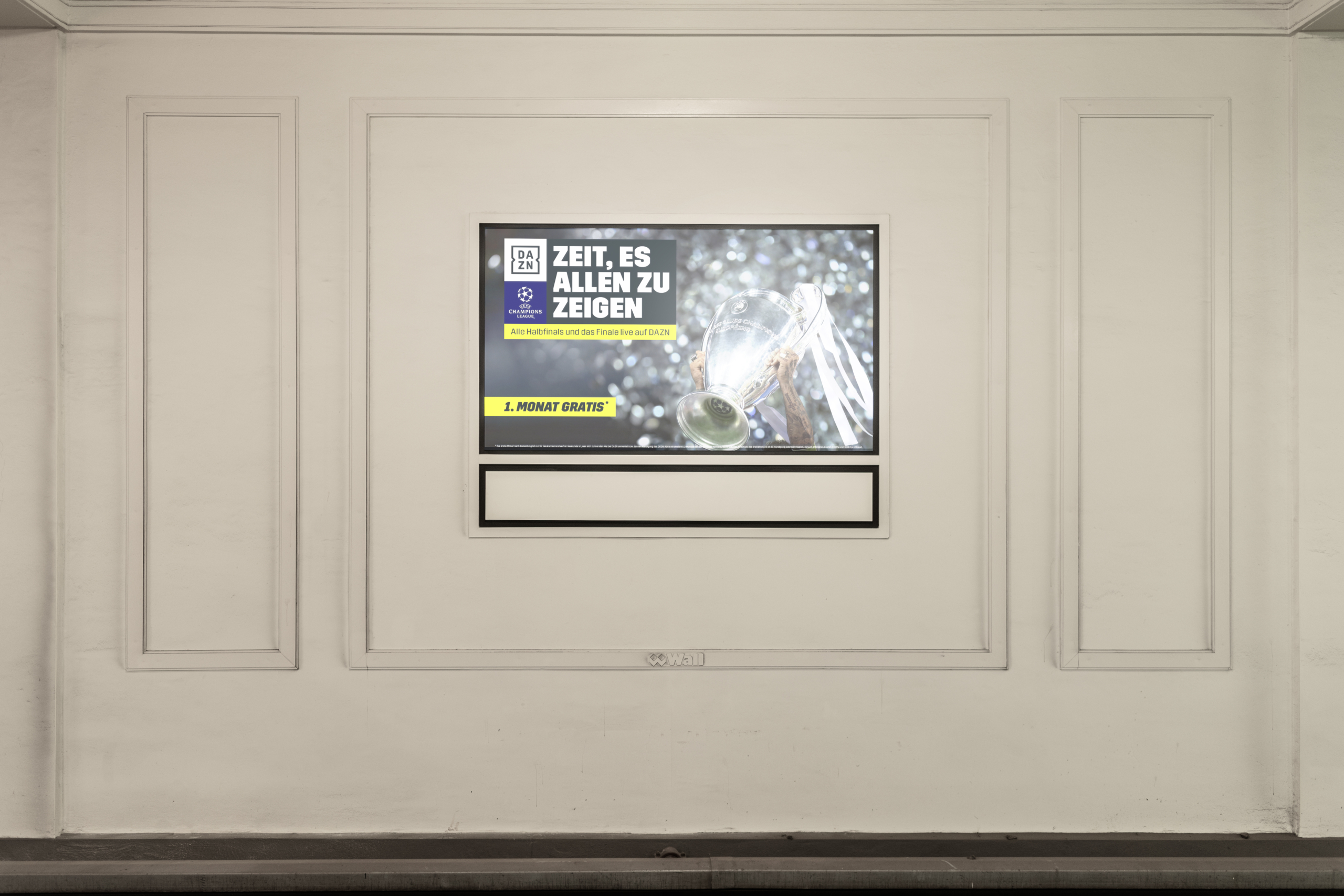 Why projection and not LED?
Monument protection, depth of the LED panels. Predefined, custom dimensions which could be matched by projection screens and images only be created by the projectors' zoom capabilities. Full 180 degrees horizontal display viewing without distraction by surface reflections. Artifact free projection surfaces. Thickness of panels was another obstacle. Not even mentioning maintenance of broken LED pixels and other defects that could occur when a train enters or leaves the station. Lots of vibration due air pushing and sucking when leaving. The right screen can last a lifetime!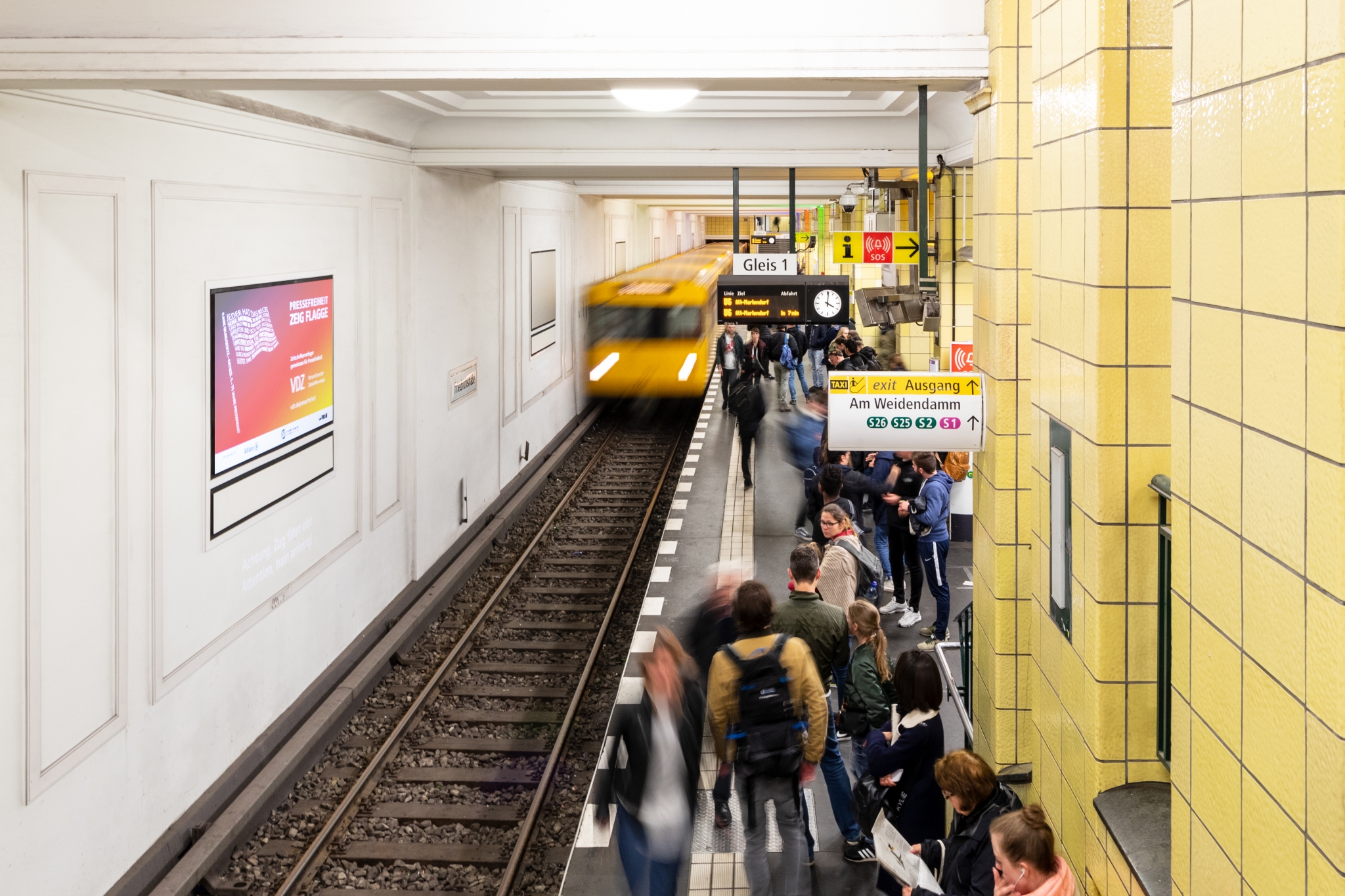 Why SI Black Diamond?
The station is very bright! Top priorities were ultra-high contrast, color fidelity and brightness together with image uniformity, and full 180 degrees viewing angles under extremely difficult lighting conditions.
"We will use SI Black Diamond again. BVG Berliner Verkehrbetriebe, due to the success with Bahnhof Friedrichstrasse, plans to convert all of Berlin's trains and subway stations with the same concept we designed for Bahnhof Friedrichstrasse. BVG loves the quality of the projection displays together with the perfect integration of the entire projection system under the conditions of the monument protection authority."
– Thomas Schnuppe, Competence Area Manager – Digital Media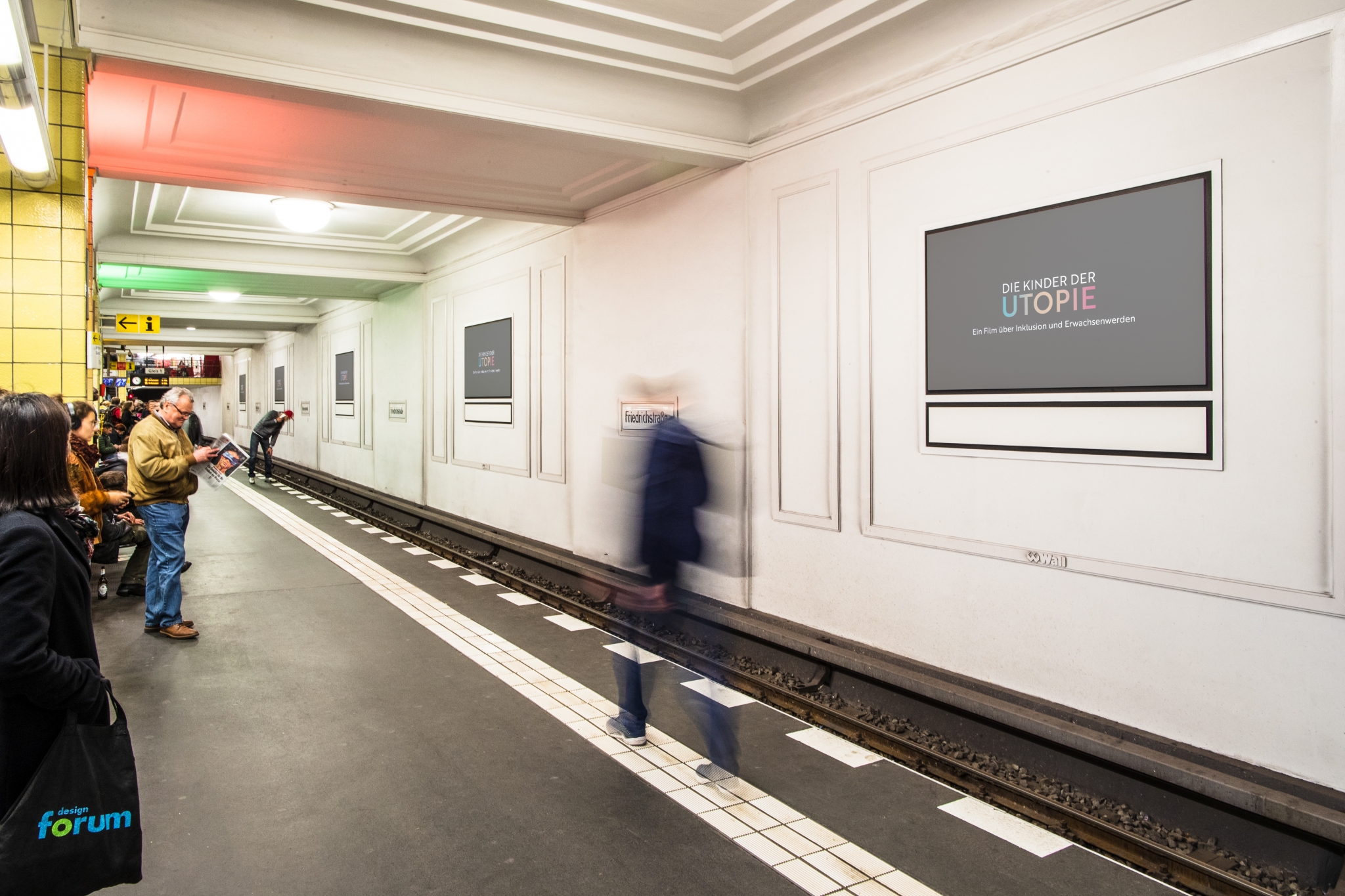 ---
Interested in knowing more about Black Diamond?
System Configuration
Epson Laser EB-L1505U, UHD, 12,000 Lumen
12 Black Diamond laminated on precision cut, rigid backing boards. 1350mm x 2400mm (53.15" x 94.50").
---
END USER
Wall GmbH, Germany
Contact: Thomas Schnuppe
www.wall.de
---
Let's do this.
Since the beginning, it has been our mission to bring you the big screen experience – with the lights on. Let's work together.
Get Started