If you've ever wondered how to build a home theater, Bespoke in the Burbs walks you through it. You can see all the steps involved— from the blueprints to the final reveal, by following and watching this popular home design series on YouTube. As show host and nationally recognized design-build contractor Ramsin Khachi suggests, there's a lot more to it than slapping the biggest screen you can find onto any random wall; there's an art and science that goes into not only the selection and placement of a projection screen, but also the speakers, lighting, seating layout, and more, important facets that can make or break your entertainment experience.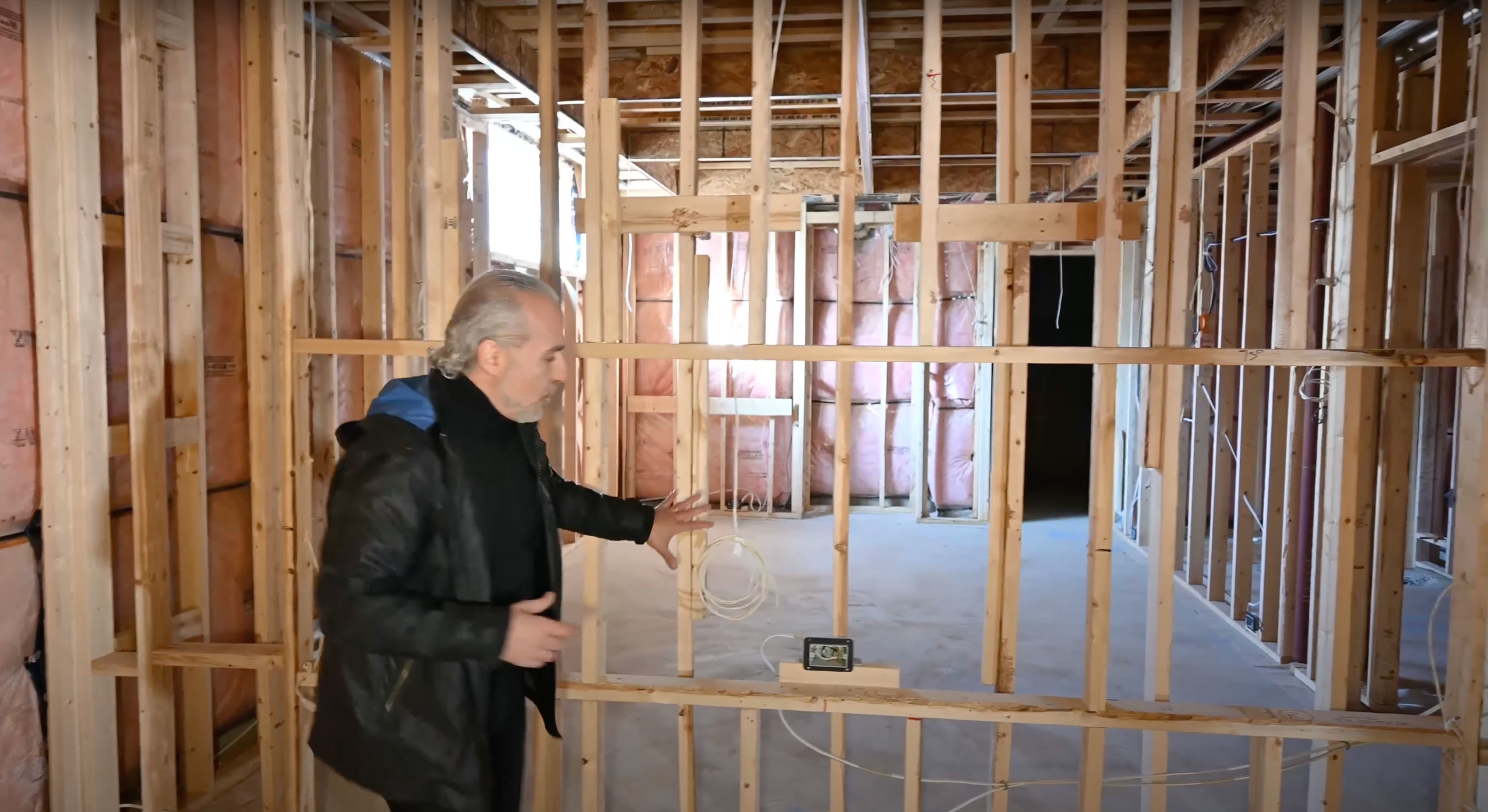 Bespoke in the Burbs Episode 9
Bespoke in the Burbs follows the construction of a technologically-advanced 4,000-square-foot home from start to finish. In Episode 9 of Bespoke in the Burbs, Ramsin points out some of these critical aspects: steps like building a cavity behind the screen and utilizing an Ambient Light Rejecting material were important to the look and performance of the featured home theater. As Ramsin explains during a tour of the framed-in theater, these two practices allow speakers to be hidden behind the screen and the sound to travel through the material unaffected while video remains crisp and clear even while the room lights are on. Also influencing the performance and design of the well-appointed entertainment area is a space underneath the stairs for stowing AV equipment, floor risers to achieve a comfortable view of the screen, and elegant LED lighting to set the mood.
Follow Along with Bespoke in the Burbs
In many Bespoke in the Burbs episodes, you'll see his ideas come to fruition in the home theater—where a 120-inch Zero Edge Pro screen with acoustically transparent Slate material from Screen Innovations takes center stage. So, what's next? How will the screen be applied to the finished wall surface? What steps will be taken to blend the Dolby Atmos speakers blend with the ceiling? Finally, how will the audio and video components tie together under a single control system?
These and other important questions will be answered as the home theater comes together in future episodes. You'll learn how the construction, size, and other parameters of the home theater space influence decisions along the way. You'll see how beautiful design and state-of-the technology can coexist peacefully. You'll understand why hiring an AV expert as home plans are drawn is so important and how collaboration with the builder, designer, and other trades ensures a stellar end result. Everything you've ever wanted to know about building a home theater is addressed straight from the experts.
Be sure to catch future episodes of Bespoke in the Burbs for a solid stream of tips, tricks, and advice you can apply during your own home construction or remodeling projects.
Watch Episode 9 of Bespoke in the Burbs (check out the home theatre planning segment around 10:24 sec)